Bubble-Blowing Recycle Bins For Leeds
9 October 2018, 11:31 | Updated: 9 October 2018, 12:04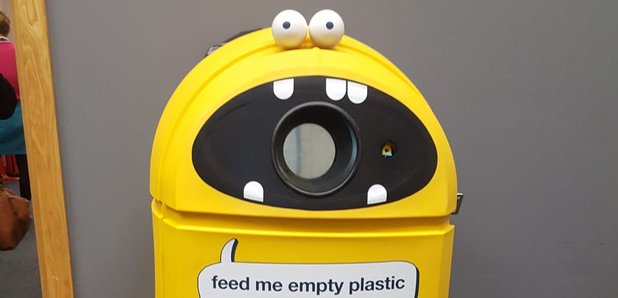 Bubble-blowing bins and collecting bikes are among a range of initiatives being trialled in Leeds - to get us to recycle more.
It's being billed as the UK's biggest push to find new ways to improve recycling "on the go".
The #LeedsByExample project begins today, with the aim of rolling out successful parts of it nationwide.
As well as the bubbles and the bikes, there will be recycling reward machines, a huge art installation and eye-catching new street signage as the latest technology and thinking on how to increase packaging recycling is showcased across the city centre.
Environmental charity Hubbub and recycling compliance scheme Ecosurety said the project brings together Leeds businesses with household name supporters including Asda, Coca-Cola, Costa, Marks & Spencer, McDonald's, Pret A Manger and Starbucks.
They said the campaign will pilot new recycling facilities for plastic, cans and paper cups on the streets, in offices, shopping centres, universities and transport hubs for six months.
The groups say that, although recycling at home and kerbside collections have improved over the years, the rate of recycling on the go is still low.
They also highlighted the problem of whole batches of on-street recycling becoming contaminated by liquids, tea bags and leftover food.
The project will also see the first UK trial of the We-Recycle app which will uses barcodes to give recycling advice.
Gavin Ellis, director and co-founder of Hubbub, said "The huge range of eye-catching recycling bins and communications throughout Leeds city centre will make it really easy for residents, workers and visitors to spot their nearest recycling point.
"We're interested to discover which of these will make the biggest difference and will share what we learn openly so that the most successful elements can be rolled out in Leeds and nationally.
"We're also making sure that all of the recycling we collect will be processed in the UK as locally as possible."