Bikers Bring Part Of Leeds To A Standstill
1 November 2016, 12:15 | Updated: 1 November 2016, 12:21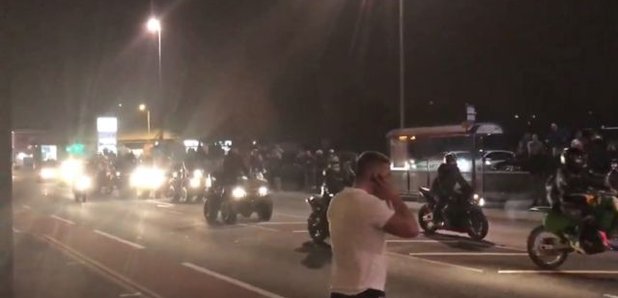 Police have condemned what they're calling the "mindless actions" of a group of bikers who brought part of Leeds to a standstill last night.
Around 50 motorbikes and quad bikes were seen driving up and down Kirkstall Road.
Some witnesses have described it as like a scene from "Mad Max".
The road was closed for about 90 minutes, a police helicopter was out as well.
Chief Superintendent Paul Money, Leeds District Commander, said: "The appalling behaviour that was witnessed in Leeds last night, when a large group of people on motorbikes and quad bikes rode into the city centre and congregated in Kirkstall Road with a complete disregard for the safety of the public, was completely unacceptable.
"Their actions caused significant disruption and nuisance in the area and members of the public were left understandably concerned. We received a large number of calls reporting dangerous riding and other anti-social behaviour by this group.
"Officers from Leeds District, supported by roads policing colleagues and the police helicopter, responded to the incident and were strategically deployed throughout the evening to provide reassurance and gather evidence. Kirkstall Road was temporarily closed in the interests of public safety and the majority of the group dispersed by about 10pm.
"Detectives from Leeds District CID are continuing to conduct detailed and comprehensive enquiries today to identify those involved and take robust action against them. We are working closely with our local authority colleagues, with particular support from Leeds Anti-Social Behaviour Team and LeedsWatch CCTV.
"I want to reassure the members of the public who were caught up in the incident last night and the wider community that we will be doing everything we can and using all available criminal and anti-social behaviour legislation to bring those involved to book.
"We believe this event was organised through social media and we would like to remind people to think very carefully about the consequences of their actions when getting involved in unofficial gatherings such as this.
"It is no secret that we are generally experiencing significant levels of demand on our limited resources and with Halloween last night it was one of our busiest nights for calls for service. What we did not need was the mindless actions of a few creating additional unnecessary demand on those limited resources and potentially causing delays to members of the public in need of a police response."
A 26-year-old man's been arrested.