Everton Stadium 'Will Deliver £1bn" To Economy
14 September 2018, 07:13 | Updated: 14 September 2018, 07:16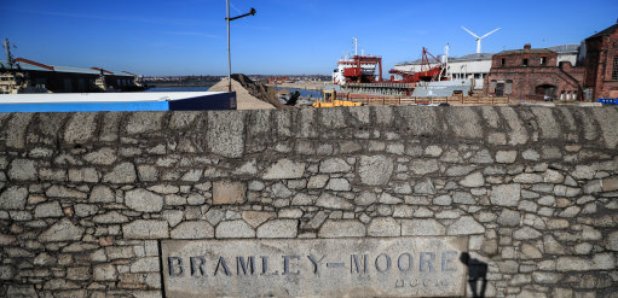 The man responsible for delivering Everton's new stadium has been talking about the benefits it will bring to Merseyside.
Colin Chong, Stadium Development Director, told EvertonFC.com:
"The opportunity we have to develop a stadium at Bramley-Moore Dock offers Everton a platform for growth and success. But it isn't just a great opportunity for the Club. A new, iconic stadium will benefit the entire city region. The development at Bramley-Moore Dock, alongside the legacy project at Goodison Park, will act as a catalyst to regenerate the whole of north Liverpool. It will deliver a £1bn boost to the local economy, create around 15,000 jobs and increase tourism visitor numbers to Liverpool. The knock-on effect of a stadium at Bramley-Moore Dock will also kick-start the Liverpool Waters waterfront development and extend into the Ten Streets creative development.
"The transformation to the city will be on a remarkable scale - and that transformation will be beamed across the globe every time we play a home match. I'm sure there will be no better backdrop to a stadium in the country. From a marketing perspective alone, the increased media focus afforded to both the Club and the city cannot be underestimated.
"Everton is a club I have had an affinity with for more than 30 years and it means so much to me to hold this once-in-a-lifetime position for what I already feel will be the highlight of my career.
"I've been involved in construction-related projects for more than 35 years, mainly around new stadium development or redevelopment of existing grounds, and have experience which includes the Commonwealth Games stadium in Manchester, Manchester United quadrants project, the JJB Stadium and, of course, major developments at Goodison Park. I have also delivered other major construction projects, including retail and hospital developments.
"This scheme is, of course, very close to the heart of all Evertonians – and your input has been absolutely vital and will continue to be so.
"Consultation is critical to the whole process. The feedback we have had to our Key Principles survey and the fan workshops has been really valuable and we will build on this by carrying out more sessions for both the new stadium and our plans for Goodison, which will include consulting extensively with those living close to our current home. This will be essential to help us get everything about our new stadium right and indeed our legacy plans for Goodison Park.
"We want to deliver something that Evertonians will be proud of for generations to come and the simplest little questions can help inform strategic decisions.
"With regards to capacity, we are carrying out feasibility studies and have surveyed our fans. We are working with industry experts to assess what the optimum capacity should be and, so far, a final number has not been determined. It is important we get this right and there are a multitude of factors we need to take into consideration, such as planning, size, mass, the look and feel of a stadium set in Bramley-Moore Dock. It is a lot more complex than just picking a number that feels right.
"I think it is fair to say that Bramley-Moore Dock is the best site in Liverpool to develop a project of this size, scale and significance. Everton is part of the cultural fabric of the city and when the Bramley-Moore Dock site became available we felt the history of the site was very much in keeping with our own.
"Understandably, a lot has also been said about funding. Like all developments of this size and nature, the funding is complex. We have a number of options available to us. Liverpool City Council is one of those options and there are other opportunities we are exploring too. Any deal we do will be the best deal for Everton Football Club.
"Moving forward, we will be doing more engagement with all stakeholders, including our supporters. We will also be issuing a travel survey that will be going out in the next few weeks and publishing a project website that will keep everybody informed on our progress.
"The planning application will be submitted at the earliest opportunity and will be complete and thorough. It will be a full planning application and, therefore, we need to make sure that everything in it is absolutely correct. This, too, is a complex process. We're reliant on third-parties and a lot of the work simply can't be rushed.
"We are all focused on delivering a very special stadium at Bramley-Moore Dock but it is also important to emphasise the importance of the legacy project at Goodison Park as part of the whole project. As fans will know, Liverpool 4 is one of the most deprived areas in the UK. By moving to a new stadium, we believe we have a real opportunity to leave a legacy which can help regenerate this area for generations to come. Our 'Goodison Campus' already includes the Everton Free School and Sixth Form College, The People's Hub, The Blue Base and our plans for The People's Place – a permanent mental health facility on Spellow Lane. Through the redevelopment of the current Goodison site we have the opportunity to expand on the work Everton in the Community already delivers in Liverpool 4.
"There is a long journey ahead and we'll need your help and backing every step along the way.
"We're incredibly grateful for your support and patience up to now and look forward to working with you to make our dream of an iconic new stadium on the banks of the Mersey and a transformed L4 a reality."