WATCH: James Corden Winds Up EVERY Star By Spooning Liam Payne, Out-Dancing Taylor And Tackling Ed
8 December 2017, 08:57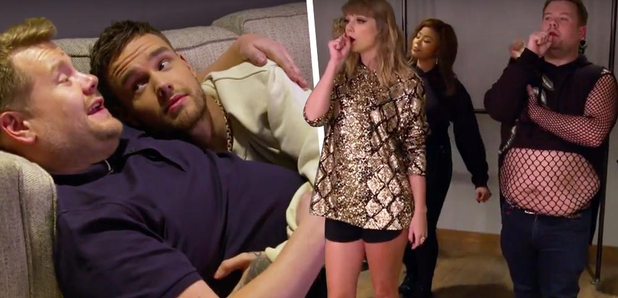 This is what happens when you let James loose...
What happens when you let James Corden, one of the most chaotic, craziest hosts in the world, lose at iHeartRadio Jingle Ball at The Forum?
You get him pestering some of the world's biggest stars - from Niall Horan to Sam Smith - backstage.
> WATCH: James Corden Got The Surprise Of His Life With A Sweet Reunion In The Back Of A Cab With Roman Kemp!
The host of 'The Late Late Show' swung by The Forum and made himself the General Manager, which meant he had access to everyone's dressing rooms. Gulp...
He sure made himself at home, when he started massaging Niall's scalp, stopping Ed Sheeran from even leaving his own room, and insulting Taylor's backing dancers' outfits.
Ngl, though, we're only saying this 'cause we're jealous that James got to cuddle Liam on the sofa, and we didn't.
> Download Our App Now, And We'll Serve You Some New Videos Fresh Outta The Oven Every Week!
You thought it was bad when he crashed backstage? You clearly haven't seen him, erm, collaborate with Little Mix, yet...