10 YouTube Videos You Won't Believe Are TEN Years Old This Year!
3 April 2017, 16:39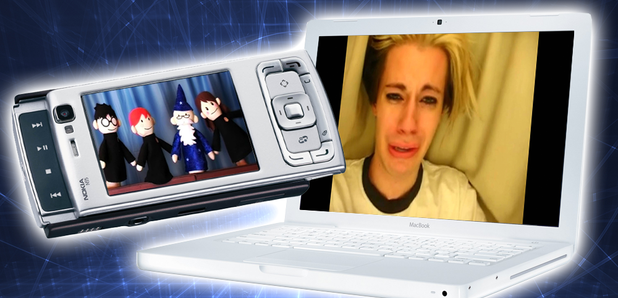 These classics have been helping you avoid work for a DECADE!
Whether you were sneakily sending them over Bluetooth in the back of a classroom, or quickly watching them before your you were kicked off the Internet so your mum could use the phone - these 10 YouTube videos were ALL we could talk about in 2007.
Yep, these absolute gems are a DECADE old, and we can guarantee you'll still know them off by heart!
> 23 Songs Turning 10 In 2017 That Will Make You Feel Hella Old!
From the iconic "Leave Britney Alone" which made Chris Crocker one of the Internet's first viral stars, to the birth of the "reacts to" genre from that video we can't bring ourselves to even mention, 2007 was an iconic year for YouTube.
1. Potter Puppet Pals
At the time of writing, Neil Cicierega's incredible 'The Mysterious Ticking Noise' episode of Potter Puppet Pals has racked up a gobsmacking 175 MILLION views in the 10 years since its upload. The video, which is equal parts cute and hilarious, jumped on the Harry Potter hype at its peak in 2007, and changed the way we viewed the characters forever... DUMBLEDOOOOORE!
2. Shoes
In a time before RuPaul was on hand to give us our weekly drag fix, it was up to LiamKyleSullivan to serve up some auto-tuned cross-dressing realness. We still can't step into a shoe shop without mentally going "These shoes rule. These shoes suck." Betch.
3. Leave Britney Alone!
Oh Chris Crocker... you can delete the original video all you want, but we all know that nothing EVER truly disappears from the Internet! His "leave Britney alone!" rant became one of the most famous vlogs of all time, has been parodied countless times in movies and TV, eventually catapulting Chris to global fame.
4. Reactions To That Video...
Whenever we hear gentle piano music playing now, we're instantly transported back to the day our innocence was lost forever. But as traumatising as that video was, it did launch the much-loved "reacts to" genre. So that's something, I guess...
5. Filipino Prisoners Dancing To 'Thriller'
Over 1,500 inmates at Cebu Provincial Detention and Rehabilitation Center in the Philippines came together to flawlessly re-enact Michael Jackson's epic 'Thriller' video. The result was absolutely stunning, and was headline news worldwide when the video was uploaded to YouTube in July 2007.
6. Chocolate Rain
10 years down the line we still haven't quite worked out what chocolate rain actually is, but the stupidly hypnotic song is STILL stuck in our heads. And is no doubt in yours now, too... #SorryNotSorry
7. Dramatic Chipmunk
Duh, duh, duuuuuuuuh! Yes, we've been using this chipmunk (which we're convinced is actually a Prairie Dog) as our go to reaction video for TEN YEARS now! Also, the chipmunk is probably dead now. Soz.
8. Miss Teen USA 2007
We all have those days where we stand in the shower thinking "Why did I say that? I'm so stupid!" - well just watch this Miss Teen USA 2007 contestant answer a question. It's still one of the most cringe-worthy videos on the entire Internet - 66 million people can't be wrong!
9. I've Got A Crush On Obama
Even before he became President, Barack already had a pretty strong following, but nobody was more dedicated to the future Prez than Obama Girl - her videos declaring her love for him have been viewed over 120 million times!
10. Daft Hands
Daft Punk's 'Harder, Better, Faster, Stronger' still sounds fresh 10 years on, but what's even more impressive is Fr.Eckle Studios' mastery that is Daft Hands! While the concept of the video is as simple as the song's lyrics being written on various parts of someone's hands, it's not until you try and recreate it that you appreciate how much effort and brainpower goes into it.
You May Also Like...