Can You Believe These MASSIVE Tunes Are Five Years Old Now?!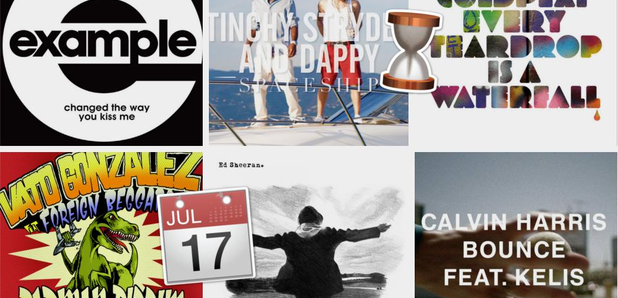 We've all be in that situation when we're listening to the #CapitalThrowback and thought "WHAT A TUNE"! Well, here's some of the BIGGEST throwbacks from this time, five years ago...
Don't even try to deny it - the #CapitalThrowback is, without a shadow of a doubt - the best time of the day. Which is why you're in luck right now...
We've got some of the BIGGEST tunes that were released in this month, FIVE years ago. No. Seriously. That's 1,825 days ago. Brace yourself for some MASSIVE blasts from the pasts.
Example - 'Changed The Way You Kiss Me'
How could we not include this huge, huge, huge tune? Example's BRIT-nominated anthem is ideal for raving; chilling; revising - pretty much whatever you're doing, you could do it to this song. That explains why it was the Big Top 40 number one for three weeks, doesn't it?
Coldplay - 'Every Teardrop Is a Waterfall'
Not only was this feel-good hit the lead single from the band's fifth studio album, 'Mylo Xyloto', but it was also nominated for two GRAMMYs (Best Rock Performance and Best Rock Song) as well as being used in the Ryan Reynolds-Jason Bateman comedy, 'The Change-Up'. Not bad, really.
Ed Sheeran - 'The A Team'
Can you actually believe five years ago, we didn't even know who Ed Sheeran was? Thankfully, he dropped 'The A Team' and the rest was history! Ever since then, he's gone on to pretty much win the music industry... And our hearts. (Stop it. We're not crying. You are!)
Calvin Harris feat. Kelis - 'Bounce'
If you try telling us you haven't lost 98% of your chill to this song, then we know you're straight up lying. This was THE go-to tune for the Summer... And, to be honest, it still pretty much is. Thanks, Calv.
Beyoncé - 'Best Thing I Never Had'
Well, anything by the Queen had to go in the top tunes at the time, didn't it? This pop-R&B ballad was soulful and sassy... As if we expected anything less from Beyoncé.
Tinchy Stryder and Dappy - 'Spaceship'
What's not to love? The video featured the two lads; backing vocals from Tulisa; sunny Italy and the 2010 Miss England finalist. If that's anything to go by, you know the tune was a banger!
Katy Perry - 'Last Friday Night (T.G.I.F.)'
It's not the most artistic song; you'll definitely find more mature lyrics, but... IT'S JUST THE FUNNEST THREE MINUTES OF OUR LIVES! It's just pure dance-pop about getting your drink on and having the time of your life. Every song should be about this.
Vato Gonzalez feat. Foreign Beggars - 'Badman Riddim (Jump)'
If we asked you to name this Dutch DJ and British grime group combo, you probably wouldn't have a Scooby Doo... But with a blast of this dirty house banger, you would immediately be thrown back five years, bass-facing and raving until who knows when.

You May Also Like...