14 Of The Hottest Summer Songs You Need In Your Life Right Now
29 July 2016, 06:00 | Updated: 29 July 2016, 08:01
Promoted by Coca-Cola Zero Sugar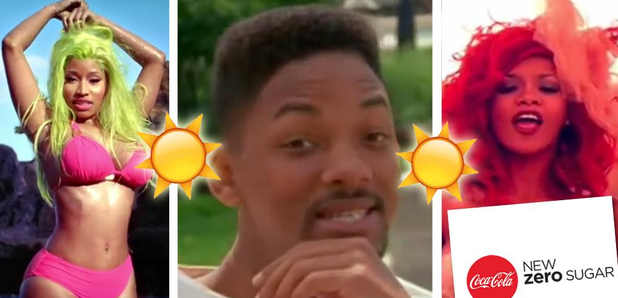 To celebrate the new improved taste of Coca-Cola Zero Sugar we've taken a look at this summer's BIGGEST tunes, that - quite frankly - you need in your life!
This summer has already been a bit of a scorcher, but we're turning up the heat with 14 of the hottest tunes from today... And the odd #CapitalThrowback from yesteryear!
So whether you're chilling in a beer garden until the wee hours or going out hard in the biggest house-party of 2016, we've got the hits you HAVE to have...
'Someone Who Needs Me' - Bob Sinclar
Bob Sinclar is the king of happy vibes, and you don't get much happier than this upbeat, energetic anthem from the man who brought us 'Love Generation' and 'World Hold On'.
'This Is What You Came For' - Calvin Harris feat. Rihanna
You can't have a party playlist without including the most successful DJ of today, can you? Calvin Harris and Rihanna collaborated once for 'We Found Love' and it was a certified SMASH... And their next pairing only got better.
'When Love Takes Over' - David Guetta feat. Kelly Rowland
Just try to tell us you don't sing "YEAH-AH-EAH" at the top of your lungs every time this song comes on. You can't, can you?
'Hype' - Dizzee Rascal & Calvin Harris
When Dizzee performed this track for the first time at this year's Capital Summertime Ball, the ENTIRE arena went off. If that isn't the definition of "hot summer song", we don't wanna know what is.
'Only Girl (In The World)' - Rihanna
Can you believe that this absolute BANGER is six years old... And yet we're still raving to it? (Even the lads are singing "like I'm the only girl in the world")
'CAN'T STOP THE FEELING!' - Justin Timberlake
It's was penned 2016's version of 'Happy', 'cos everyone and anyone had it stuck in their heads all day. Probably explains why this ultimate summer sensation spent so long in the No. 1 spot.
'Glad You Came' - The Wanted
Taken from the band's second album 'Battleground', this was their biggest track to date and still creates an amazing summer vibe whenever it's played.
'This Girl' -
Kungs vs Cookin' on 3 Burners
This trumpet-filled dance tune has dominated the charts throughout 2016 and with a music video that features sun, sea and sand, what more could you want from a summer anthem.
'Summertime' -
DJ Jazzy Jeff & The Fresh Prince
If your'e compiling a list of the hottest summer songs and you don't include this old skool classic, you need to have a rethink. Will Smith and Jazzy Jeff made an amazing combination and also one of the most unforgettable summer time tracks ever!
'Mamacita' - Tinie Tempah feat. Wizkid
'Pass Out' was a huge track and 'Written In The Stars' was also a massive tune, but 'Mamacita' is easily the Tinie Tempah track that contains the most summer feels.
'Ignition (Remix)' - R Kelly
As soon as you hear that beat and R Kelly utters those first words, you can guarantee that the party really is about to start...After all 'it's the freakin weekend baby' and we're about to have us some fun.
'Miami 2 Ibiza' - Swedish House Mafia feat. Tinie Tempah
"Scene one, everybody get in your positions. Pay attention and listen" - Tinie Tempah directs us all on this party starter and when the beat drops...summer is officially here.
Cold Water - Major Lazer
feat. Justin Bieber & MØ
Major Lazer beats are always perfect for the summer, so when they stick a Justin Bieber vocal over the top, you know you're onto a winner. Currently riding high in the charts, this is an absolute playlist MUST.
'Starships' - Nicki Minaj
Starships were meant to fly and your summer is meant to be a sun worshipper's dream, so turn this one up loud, grab a cold drink, get those hands up and touch the sky!
You May Also Like...