14 Festive-Sounding Songs That Aren't ACTUALLY Christmas Songs
27 November 2015, 15:47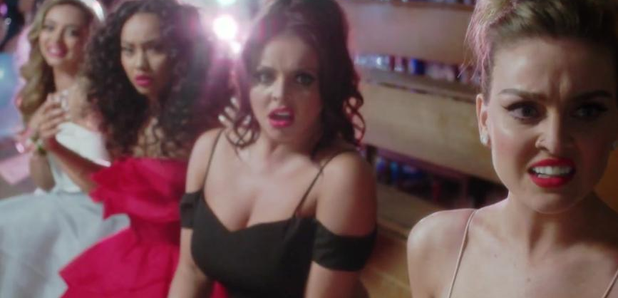 We all know that Christmas songs are only acceptable in December, but these tracks are guaranteed to have you feeling festive all year round!
Let's face it, there's some songs out there that just scream "IT'S CHRISTMAAAAAS!" (literally...) - but there's more to this time of year than just "official" Christmas songs.
We've managed to pin down every track that we reckon sounds proper festive, without ACTUALLY mentioning anything about Christmas.
Whether it's a tune that's just missing some sleigh bells, like Little Mix's 'Love Me Like You', or a track that makes us think of lonely penguins like Tom Odell's 'Real Love', there are the tunes that aren't Christmas songs but TOTALLY should be!
Little Mix - 'Love Me Like You'
No, you're not alone. We TOTALLY think of Christmas whenever we hear Little Mix's second track from 'Get Weird'. All it's missing is some sleigh bells and we'll be unwrapping our presents to this on December 25th!
Tom Odell - 'Real Love'
If Tom Odell's emotionally raw vocals didn't get you welling up last year, then you were probably bawling you eyes out at an animated penguin (don't lie)... Because of it's use on the 2014 John Lewis TV advert, Tom's track received great chart success and will forever associate itself with Christmas.
East 17 - 'Stay Another Day'
Okay, so you might hear this EVERY Christmas and just assume that it's a Christmas song... but listen carefully and it's just a generic ballad with a very snowy video. They were clever in 1994, because 21 years later we STILL listen to it in December!
Girls Aloud - 'See The Day'
So East 17 proved that any ballad released in winter can automatically become a festive classic if you have snow in the video. Well, Girls Aloud's 2005 hit 'See The Day' might not be the first track you think of when you're putting up the tree, but whack it on your festive playlist and it won't sound out of place.
Lily Allen - 'Somewhere Only We Know'
Before there was Monty the Penguin, we were mesmerised by the bear & the hare - and because of this animated caper, Lily Allen's cover of Keane's 'Somewhere Only We Know' is a firm favourite for us at Christmas.
Idina Menzel - 'Let It Go'
Okay, so this song has enough clout to be a huge winter tune in its own right, but what family Christmas would be complete without your younger relatives singing along at the top of their voice as if they're Princess Elsa? Maybe it's time to practice those lyrics...
Ellie Goulding - 'How Long Will I Love You'
It's a slow, emotional ballad... Plus half of the video is in black and white. Oh, and Ellie Goulding's wearing a woolly hat so it's cold. MUST be a new festive tune, right?
Gabrielle Aplin - 'The Power Of Love'
Okay, so we've proven that if your song is a haunting and emotionally raw ballad released in the winter, or features on a festive TV advert, it'll be automatically associated with Christmas. Well Gabrielle Aplin got lucky on both parts!
One Direction - 'Little Things'
Okay, so when you get over how young the boys look in the video, hit play on the video above and just imagine you're laid by a crackling fire with the one you love (or your cat, whatever) and you'll be instantly transported to Christmas. Fact!
Bruno Mars - 'Marry You'
Bruno's 'Doowops & Hooligans' album was just sensational, and one of the stand out tracks has to be 'Marry You'. Whilst it might not have the sleigh bells or wintry video (or any video at all...) that you'd expect from a Christmassy song, it's totally giving us that warm and fuzzy feeling none-the-less.
Coldplay - 'Viva La Vida'
We can't tell whether it's the strings, Chris Martin's soothing voice or the fact that everyone from your cool cousin to your creepy Uncle love Coldplay so it's guaranteed to soothe any family wars at Christmas time, but this tune has us feeling rather festive.
Adele - 'Make You Feel My Love'
A far cry from Bruno's energetic 'Marry You', but you can't NOT have a bit of Adele, right? 2008's 'Make You Feel My Love' is still one of her most raw tracks and will put you in a really chilled and reflective mood. Maybe save this one for cozying by the fire.
Katy Perry - 'Wide Awake'
One of Katy's best down-tempo tracks might not scream Christmas, but if you scream the house down at 6am on Xmas Day we're sure your whole family will be 'Wide Awake'! PRESEEEENTS!
Christina Aguilera - 'The Voice Within'
Okay, so this might not be one for the big rowdy Christmas parties, but Aggy's 2002 hit is definitely a winner for those quiet times of reflection, staring out the window at the falling snow. #TotesEmosh
You May Also Like...