The Best Pop Songs Of 2018 You Need To Download ASAP
24 May 2018, 13:52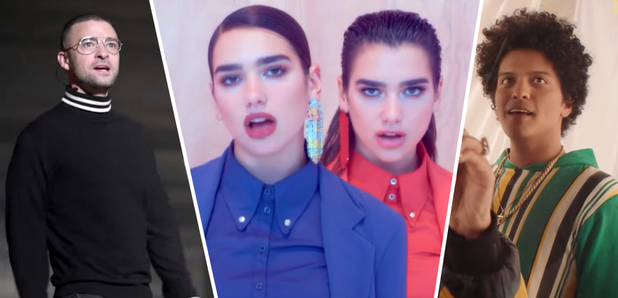 We may only be a little of the way into 2018 but that hasn't stopped the bangers coming in thick and fast!
The best pop songs of 2018! Last year we couldn't get enough of the likes of Little Mix, Dua Lipa and of course Ed Sheeran and 2018 is already promising to live up to the challenge of producing some of the biggest tunes around!
> Want To Control The Music On Capital? Now You Can With Our App - My Capital!
So, here's a perfect playlist just for you to make sure you're not missing out on any of the new songs you and your mates will undoubtedly be listening to all year. Here we go...
Ariana Grande - 'No Tears Left To Cry'
With Ariana Grande taking a long break after the horrendous events in Manchester on May 22nd 2017, the pop starlet returned with this epic single which instantly became a classic.
Download Ariana Grande's 'No Tears Left To Cry' now.
Bruno Mars feat. Cardi B - 'Finesse (Remix)'
Bruno Mars' original version of 'Finesse' has been sitting on his album '24K Magic' for a LONG time, however, with an added dash of Cardi B brilliance, the tune has been given a whole new lease of life and everyone's loving it!
Download Bruno Mars & Cardi B's 'Finesse (Remix)' now.
Justin Timberlake - 'Filthy'
Making a welcome return to the fold this year was none other than Justin Timberlake. His album 'Man Of The Woods' was announced along with the lead single 'Filthy' and we couldn't be happier that he's back!
Download Justin Timberlake's 'Filthy' now.
Anne-Marie & Marshmello - 'Friends'
Let's face it... Anne-Marie and Marshmello, what's not to love?!
Download Anne-Marie and Marshmello's 'Friends' now.
Dua Lipa - 'IDGAF'
Dua Lipa's 2017 rocketed her into the pop stratosphere and it looks like she's hellbent on staying there for the remainder of 2018 after she released this epic video for her album track 'IDGAF'.
Download Dua Lipa's 'IDGAF' now.
Rudimental feat. Jess Glynne, Macklemore & Dan Caplen - 'These Days'
Rudimental have a long history of creating hit after hit after hit. And they kicked off 2018 in the only way they know how and that's with an awesome collaboration. The group hired in the likes of Jess Glynne, Macklemore and Dan Caplen to create another masterpiece.
Download Rudimental's 'These Days' now.
Sigrid - 'Strangers'
THIS is the correct way to introduce yourself to the world of music. Wow. The Norwegian 21 year old burst onto the scene early in January 2018 with her tune 'Strangers' and hasn't looked back since!
Download Sigrid's 'Strangers' now.
Kojo Funds feat. Raye - 'Check'
Any single that can mix a little of Craig David's '7 Days' into and sound like a whole new tune deserves a spot in the top songs of the year. Kojo Funds and Raye have turned this tune into an absolute bop!
Download Kojo Funds feat. Raye's 'Check' now
Shawn Mendes - 'In My Blood'
Shawn Mendes finally brought new music to the table in 2018 with his self titled album. With its raw energy, catchy lyrics and Shawn's vocials, this song is undoubtedly the pick of the bunch.
Download Shawn Mendes' 'In My Blood'.
Years & Years - 'If You're Over Me'
We had to wait so long for new Years & Years music after their whirlwind success with their first album 'Communion' but when they returned it was well worth it! With both 'Sanctify' and 'If You're Over Me' becoming instant hits.
Download Years & Years' 'If You're Over Me' now.
Troye Sivan - 'My My My!'
Troye states that this single is a 'song of liberation, freedom and love' and we can hear why! The 'Blue Neighbourhood' singer sent ripples across the music industry at the start of 2018 with this instant classic.
Download Troye Sivan's 'My My My!' now.