18 Of The Best Pop Songs You NEED On Your 2017 Party Playlist
20 December 2017, 10:03 | Updated: 20 December 2017, 10:05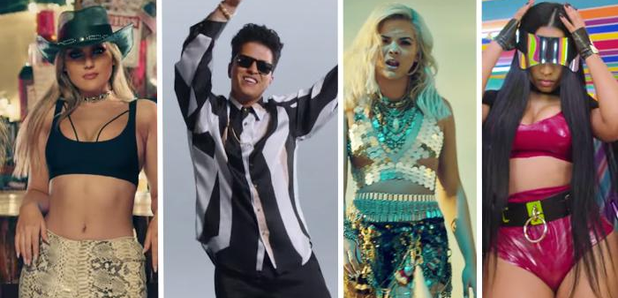 2017 has been one of the biggest years for pop music. Every week the stars are releasing amazing new tunes and we love it!
The amount of incredible new music that's been served up this year is pretty insane tbh. Little Mix have released banger after banger, Ed's new album took over the chart and Bruno Mars taught us all what he likes.
> Want To Control The Music On Capital? Now You Can With Our App - My Capital!
So we thought we'd make things just that little bit easier for you and whack all the biggest pop tunes in one perfect playlist to help you get the party started.
DJ Khaled feat. Rihanna & Bryson Tiller - 'Wild Thoughts'
It is legit impossible to listen to DJ Khaled's collaboration with Rihanna and Bryson Tiller and not dance. Go on, we dare you to try and stand still whilst listening...you will fail.
Download DJ Khaled's 'Wild Thoughts' now.
Calvin Harris feat. Pharrell Williams, Katy Perry & Big Sean - 'Feels'
THIS is a jam...Calvin Harris' 2017 album 'Funk Wav Bounces Vol.1' featured the likes of Kehlani, Lil Yachty and Snoop Dogg however it was this banger that struck a chord with audiences around the world.
Download Calvin Harris' 'Feels' now.
Charli XCX - 'Boys'
Charli XCX's 'Boys' instantly went viral after she hired in a tonne of lovely looking lads to star in the now infamous music video...the song isn't too bad either!
Download Charli XCX's 'Boys' now.
Taylor Swift - 'Look What You Made Me Do'
Talk about a comeback! October 2017 saw the incredible Taylor Swift make her eagerly awaited return to the pop scene with the lead single from her album 'Reputation'. To say it was an hit would be the understatement of the entire year!
Download Taylor Swift's 'Look What You Made Me Do' now.
Dua Lipa - 'New Rules'
If one pop star has taken 2017 by storm more than anyone else, it has to be the gorgeously talented Dua Lipa. Her single 'New Rules' taken from her debut album had us dancing all through September!
Download Dua Lipa's 'New Rules' now.
Selena Gomez & Marshmello - 'Wolves'
Selena Gomez teamed up with elusive DJ Marshmello in mid November to gift us THE Sel/Dance anthem we've always wanted!
Download Selena Gomez & Marshmello's 'Wolves' now.
Bruno Mars - 'That's What I Like'
Name us a Bruno Mars song and we'll name you 58 ways you can get your groove on to the '24K Magic' man's beats. In fact, even as we write this we're throwing down all the 'That's What I Like' shapes like a BOSS.
Download Bruno Mars' 'That's What I Like' now.
Luis Fonsi, Daddy Yankee feat. Justin Bieber - 'Despacito (Remix)'
If 2017 had to be summed up by one single song, it would have to be Luis Fonsi's chart topping collaboration with a certain Mr. Justin Bieber. FYI, if you haven't read the translation of 'Despacito', you need to get on that now.
Download Justin Bieber & Luis Fonsi's 'Despacito' now.
Clean Bandit feat. Zara Larsson - 'Symphony'
What would the best pop party playlist be without one of the most popular Vodafone Big Top 40 No.1s in recent years. Can we all just acknowledge that everything Clean Bandit touches turns to gold...k, thanks, bye.
Download Clean Bandit & Zara Larsson's 'Symphony' now.
Katy Perry - 'Chained To The Rhythm'
K-Pez's return to music in 2017 was just what we all needed. 'Chained To The Rhythm' was the first single released from Katy's 'Witness' album back in February & it was like she never left!
Download Katy Perry's 'Chained To The Rhythm' now.
Ed Sheeran - 'Shape Of You'
Did somebody say 7 weeks at the top of the Vodafone Big Top 40? Yup, Ed's comeback single is undoubtedly one of the most loved jams of 2017. If you don't dance to this whenever it is on then you're officially a robot.
Download Ed Sheeran's 'Shape Of You' now.
Little Mix - 'Touch'
Ok, ok we KNOW this technically came out in 2016 but the video was dropped this year so cut us some slack k? Plus it's a CHOON!
Download Little Mix's 'Touch' now.
Charlie Puth - 'Attention'
Gone are the days of Marvin Gaye and get it on and now it is time to stand to attention and fall in love with Chaz's tunes once again.
Download Charlie Puth's 'Attention'
Jason Derulo feat. Nicki Minaj & Ty Dolla $ign - 'Swalla'
Jason Derulo and Nicki Minaj on the same track? Do we need to say more...not really. Just listen to it and love it!
Download Jason Derulo's 'Swalla' now.
Sean Paul feat. Dua Lipa - 'No Lie'
Well what have we got here? Two #CapitalSTB legends combined to create one of the most danceable tunes of the year and we'll be forever thankful.
Download Dua Lipa's 'No Lie' now.
Louisa Johnson - 'Best Behaviour'
We couldn't wait for Louisa to release new music after her X Factor win and her second single 'Best Behaviour' from her debut studio album kept us partying all year long.
Download Louisa Johnson's 'Best Behaviour' now.
Little Mix feat. Machine Gun Kelly - 'No More Sad Songs'
Don't be a hater...we KNOW we've already got a Little Mix song on this playlist but let's face it, there's ALWAYS Space for more Little Mix.
Download Little Mix's 'No More Sad Songs' now.
Ed Sheeran - 'Galway Girl'
Ed Sheeran's 'Divide' album was easily the most successful album's of all time let alone the year and his Irish jig 'Galway Girl' was pivotal to it's success. Time for some intense toe-tapping.
Download Ed Sheeran's 'Galway Girl' now.