WATCH: You'll Spend The Next Three Hours Cringing At This Massive Oscars Mix-Up Over The Best Picture
27 February 2017, 07:38 | Updated: 27 February 2017, 09:54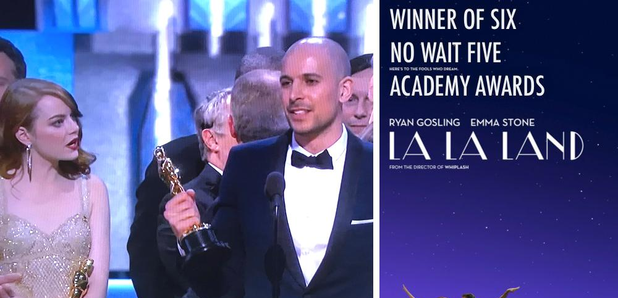 And don't even get us started on the incredible memes already coming out of it.
La La Land was a shoo-in for the top accolade at this year's Academy Awards. We'd have put all of our money on it. And right up until about 5AM, we'd have been a lot richer.
But then about eight milliseconds later, it turns out that the announcement that the Oscar for Best Picture went to La La Land wasn't actually real, and that it should have gone to Moonlight. Awk. Ward.
Actors Warren Beatty and Faye Dunaway were left to announce the most prestigious award at this year's ceremony, but after about 30 seconds of silence and confusion, it's clear something isn't right.
Having already won five Oscars, the cast and crew of La La Land rushed to the stage with joy, only for it to be later announced that there was a mix-up with the cards, and that the drama Moonlight was actually the real winner.
Pic: PA Images
In true Twitter fashion, everyone handled the situation with the upmost care... By making meme after hilarious meme.
February 27, 2017
#Oscars pic.twitter.com/p0Lb5DbzG0

— Nathan Ourn™ (@Nxthann_) February 27, 2017
Emma Stone's face though#Oscars pic.twitter.com/LZOcisrjxy

— Tim Alberta (@TimAlberta) February 27, 2017
"I'm gonna swap the envelopes on Warren's old ass later tn" pic.twitter.com/96jrYUDNMQ

— Frazier Tharpe (@The_SummerMan) February 27, 2017
STILL SPEECHLESS pic.twitter.com/qe3NUDWAHM

— Barry Jenkins (@BandryBarry) February 27, 2017
Credit where credit's due, you've gotta give it to the La La Land ensemble for handing over the award so graciously.
You May Also Like...