Capital Up Close Presents Ariana Grande Ticket Giveaway (Online 2) Terms & Conditions
31 August 2018, 13:58 | Updated: 17 December 2018, 11:04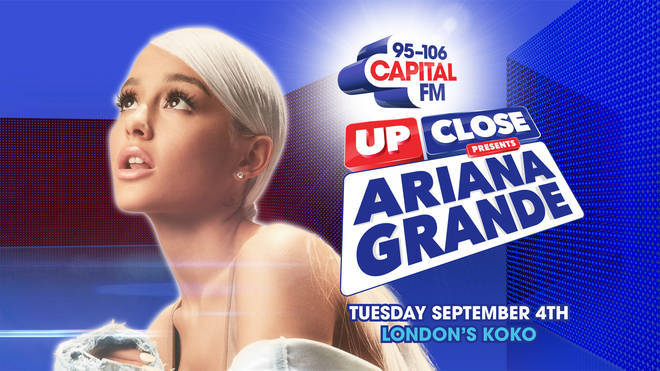 Terms & conditions.
'Win your way to Capital's Up Close with Ariana Grande' Online Competition, August 2018
Rules:
1. The following rules ("Specific Rules") together with the general competition terms and conditions (which can be found at www.capitalfm.com/terms-conditions ) (the " Competition Terms and Conditions") of Global (as defined in the Competition Terms and Conditions apply to 'Win your way to Capital's Up Close with Ariana Grande – Online Competition'' competition (the "Competition") which will run from Friday 31st August – Sunday 31st August 2018 at (the "Radio Station").
2. Anyone who enters the Competition (an "Entrant") will be deemed to have read and accepted the Specific Rules and the Competition Terms and Conditions and will be bound by them.Details of the Competition:
3. Listeners will be required to answer the question correctly given at capitalfm.com 
4. The competition will open at 2:30PM on Friday 31st August 2018 and close at 23:59PM on Sunday 2nd September 2018.
5. Winners will be selected at random and called on Friday lunchtime to be notified that they have won. If winners do not pick up the phone, a voicemail will be left and the tickets will be sent to the address given regardless so winners should ensure they provide correct addresses.
Eligibility:
6. All entrants must be aged 16 or over. If successful, all patrons must be aged 14 years of age or over and have photographic ID in order to gain entry to the event. Anyone under the age of 16 must be accompanied by an adult, who is 18 years of over.
7. Entrants may enter the competition more than once.Prize:
8. The prize is 2 tickets to 'Capital Up Close presents Ariana Grande' taking place at KOKO, Camden, London on Tuesday, September 4th 2018.14. We have 5 pairs of tickets to give away to 5 individual winners.
9. For the avoidance of doubt, the prize does not include travel or accommodation.
10. Global reserves the right to substitute the prize with another prize at its absolute discretion.
11. All winners must adhere to the event and venue terms and conditions, and door policy.
12. Prize is non transferrable and no alternative is available.
Event Information:
We (Global Radio Services Limited) are hosting an event at Koko, London (the Venue) on Tuesday, September 4th 2018. (the Event). If you are lucky enough to have a ticket for the Event, you should read these terms and conditions together with and any other statements which may be displayed at the Venue.                               
●  You must produce a valid ticket (and show photographic I.D) in order to gain entry to the Event.                                
●  All patrons must be 14 years of age or over & bring photographic I.D in order to gain entry to the Event. Anyone under 16 years of age must be accompanied by an adult, who is 18 years of age or over. Valid forms of photographic I.D include Passport, Drivers Licence and PASS scheme.                                
●  When purchasing alcohol if you appear to be under 25 you will be asked for proof of age. We apologise if this causes any embarrassment.                                
●  Smoking is not permitted in the Venue; this includes the use of e-cigarettes and offenders will be ejected without refund.                                
●  The Venue has zero tolerance policy in respect of illegal substances and we will refuse admission or eject patrons for any behaviour which breaches this policy and shall be entitled to take all reasonable measures to ensure compliance with the policy.                                
●  WARNING – patrons will be exposed to loud music at the Event and strobe lighting may be used.                                 ●  For security reasons, we recommend that you only bring small handbags into the Venue and we reserve our right to refuse entry to those carrying large rucksacks, suitcases or other large bags. Searching is a condition of entry, refusal to allow a search to be conducted will result in non-entry to the Venue.                                
●  The doors for the Event open at 7.00pm. There will be no admission for the Event before the designated opening time. Late admission cannot always be guaranteed.                                
●  No pass-outs or readmissions, including for smoking.                                
●  We (together with the Venue) reserve the right to refuse admission should patrons breach any of these terms and conditions or those rules or regulations displayed at the Venue, or behave in a manner which is likely to cause damage, injury, nuisance or annoyance or for failure to comply with our or their reasonable requests.                                
●  Anyone throwing objects, including but not limited to alcohol, glasses, etc. will be removed from the Venue and no refund given. Furthermore, patron's details will be provided to the regulatory authorities should an offence be alleged to have taken place.                                
●  We are not liable for any tickets which are lost, stolen or damaged.                                
●  Our liability to you in connection with the Event (including, but not limited to, for any cancellation or rescheduling of the Event) shall be limited to the value of your ticket. Nothing in these terms and conditions seeks to exclude or limit our liability for death or personal injury caused by our negligence.                                
●  It is your responsibility to check that the Event is going ahead at the date and time. All advertised times are approximate and subject to change.                                
●  Tickets are strictly non-transferable. If you have a ticket and are unable to attend the Event, please contact Patrick.Neville@global.com so that we can reallocate it.                                
●  Any resale/transfer or attempted resale/transfer of your ticket will result in seizure or cancellation without compensation.                                
●  The unauthorised use of photographic and recording equipment is prohibited. Any videos or recordings may be destroyed or deleted.                                
●  You give your express consent to your actual or simulated likeness to be included within any film, photograph, video, audio and/or audio-visual recording at the Event and for such film, photograph, video, audio and/or audio-visual recording to be exploited in any and all media for any purpose at any time throughout the world. This includes filming by the police or security which may be carried out for the security of patrons.                                
●  Items that we, in our absolute discretion, consider may be a threat to health and safety are not permitted in the Venue.                                 ●  We do not accept responsibility for the loss or damage of personal property brought into the Venue. SP: Global Radio Services Ltd, 30 WC2H 7LA. If you are having problems using our text entry service please have a look at our FAOs or alternatively contact our customer helpline on 03333 212196.