Stephanie Davis Reflects On 'Darkest Days' During Relationship With Jeremy McConnell In Heartfelt Instagram Post
3 August 2018, 15:46 | Updated: 3 August 2018, 15:49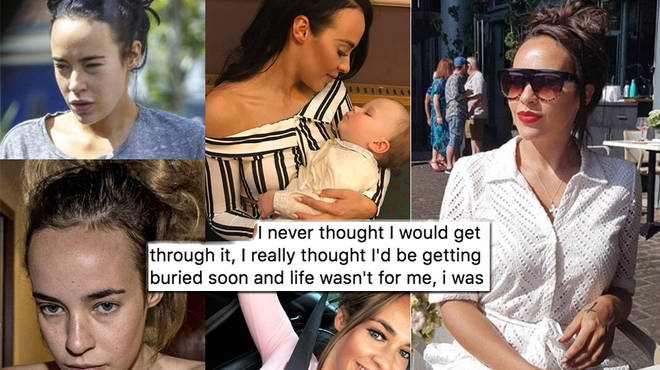 A year after her public bust up with her ex-boyfriend Jeremy McConnell, Stephanie Davis has opened up about her 'dark' past, saying she has turned her life around in a heartfelt Instagram post.
Stephanie Davis, 24, has reflected on a turbulent year in a heartfelt Instagram post, opening up and admitting her struggles with addiction and depression, saying she feared was was headed towards an early grave before seeking help.
After a very public drunken bust up with her now ex boyfriend, Jeremy McConnell, which saw her get arrested for assault whilst pregnant with their child, the couple ended their toxic relationship, and Steph has a one year old son, Caben-Albi who she's a single mother to.
>Stephanie Davis Reveals How She Chose Her Son's Unusual Name & Says He Saved Her Life
In the incredibly honest post, Steph admits that asking for help was hardest thing to do, but without it she predicts she would have died.
She said: "I never thought I would get through it, I really thought I'd be getting buried soon and life wasn't for me, I was suicidal & I had nothing left to give, I was sick of trying, sick of justifying myself, mentally absolutely DRAINED."
"I turned to alcohol to numb my pain, it wasn't about wanting a wine, I needed it to stop the pain I had,I was so scared to feel the hurt I was really feeling inside".
People have flooded her social media page with messaged of support, congratulating her on being a single mother and for seeking the help she needed.
One user wrote: "Proud of you girl. U don't need a man us single women are stronger for it. Keep goin and live ur life to the fullest with Caleb x"
Steph originally met Jeremy when they appeared on Celebrity Big Brother and they split up after a rocky two year relationship. She is now also set to make her 'Hollyoaks' return after being axed from the soap in 2015.
>Download Our Brand New App For All The Latest Celebrity News