No Welsh drivers fined for smoking in cars with children
14 November 2016, 08:07 | Updated: 14 November 2016, 12:59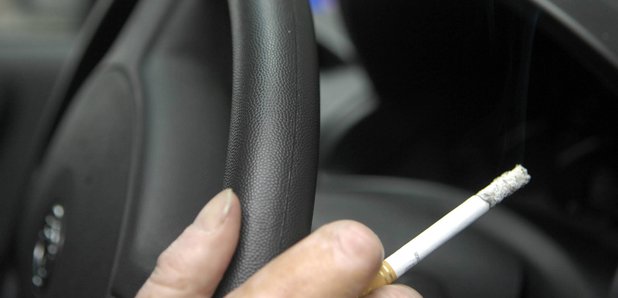 It's emerged that no one has been fined in Wales since it was made illegal to smoke in cars with children.
The law in Wales changed in October 2015 to make it illegal to smoke in a vehicle with anyone under the age of 18. Drivers or passengers flouting the rules potentially face a £50 penalty.
But figures show no fines have been issued in Wales since the legislation was changed.
Dyfed Powys Police are the only Welsh force to have issued warnings - six in total.
The Police Federation, which represents rank and file officers, says it has been difficult to enforce the law as police do not have the power to issue on-the-spot fines.
The legislation was introduced to protect children from second-hand smoke but Simon Clark from the smoker's group Forest, claims the law is "useless" and "unenforceable".
"Even before the ban very few people smoked in cars carrying children.
"The overwhelming majority of smokers know it's not considerate."
Suzanne Cass from ASH Wales Cymru, said "This law was never about bringing prosecutions, it was about decreasing the number of children being exposed to second hand smoke.
"Rather than seeing more prosecutions, we'd like to see more education and support for people trying to kick this habit."
A Welsh Government spokesperson said: "The law sends a strong message to people that smoking in cars with children on board is not acceptable and we're pleased there has been a high level of compliance.
"We have always said the measure of success would be changes in attitude and behaviour and not the number of enforcement actions taken."