Life Saving Trauma Packs Leave Wales For Namibia
27 October 2016, 06:04 | Updated: 27 October 2016, 06:13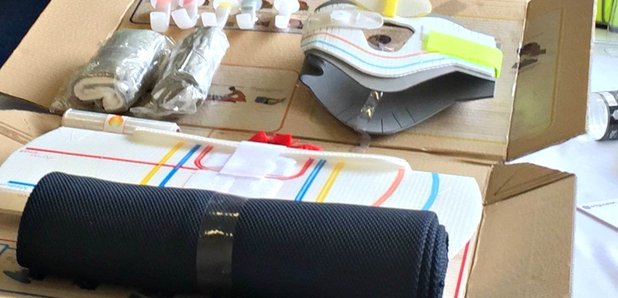 Life saving trauma packs have secured funding for a huge trial to reduce roadside fatalities in Afroca
The kits have been designed and developed in Wales by teams at Cardiff University and Cardiff Metropolitan University to specifically try and lower the extremely high death rates on Namibia's roads.
The Medical Research Council Public Health Intervention Development Scheme has put up funding of £150,000 for the trial. Non-medical specialists such as police, drivers, senior villagers and chiefs will be trained to use the low-cost packs in the first 'golden hour' when lives are saved after trauma.
The packs all have inside life-saving equipment with simple instructions, and were created with clinicians from the Welsh National Health Service and industry partner BCB International Ltd.
Namibia was chosen because Professor Hall already leads Cardiff University's successful Phoenix Project in the country in collaboration with the University of Namibia.
Professor Hall behind the packs development at Cardiff Uni says
"I am delighted that the Phoenix Project is able to help with the introduction of the trauma packs in Namibia, a country with one of the worst road traffic accident problems in the world.
"The packs provide intuitive, life-saving equipment and easily understood instructions, and I expect them to save countless lives."
The Namibian University of Science and Technology, is also involved through its paramedic school.
Professor Hywel Thomas, Pro Vice-Chancellor, Research, Innovation and Engagement, Cardiff University, said:
"This wouldn't have happened without the work of Cardiff University's Phoenix Project, which is having a meaningful impact on people's lives in Namibia in the areas of education, health, communication and science.
"I hope that this latest innovative intervention, involving many collaborators in Wales and Namibia, will eventually be expanded acrossNamibia and to developing countries elsewhere in the world."
The trauma packs, designed by Clara Watkins, have been field tested in Zambia through Professor Hall's Mothers of Africa charity, with support from the Welsh Ambulance Service and first responders in Wales. The Royal Centre for Defence Medicine and International Red Cross have also assisted with the testing and development.