Concern for pets ahead of bonfire night
4 November 2018, 11:32 | Updated: 4 November 2018, 11:34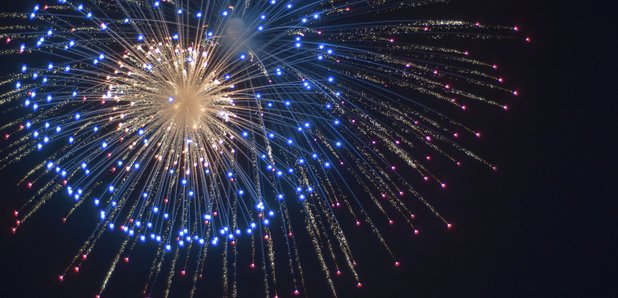 RSPCA Cymru are calling for fireworks to be restricted to specific dates amid fears of their impact on pets.
They've received more than 150 calls in the last five years related to concern for animals and fireworks.

Between 2013 and 2017, the charity recieved 152 calls from across Wales from members of the public concerned that fireworks could be having a damaging impact on animal welfare.

The animal welfare charity is now bracing itself for more calls about animals negatively impacted by the entertainment explosives, as Wales prepares to celebrate Guy Fawkes Night.

RSPCA Cymru wants to see the use of fireworks limited to agreed traditional dates - such as Guy Fawkes/Bonfire Night, New Year's Eve, Chinese New Year and Diwali.
The charity also supports moves to reduce the maximum permitted noise level for fireworks for public sale to 97 decibels. Fireworks louder than this would only be used for licensed public displays.

RSPCA also believes all public fireworks displays should be licensed by the local authority, with information about the display made available in the local area - providing animal owners with more time to plan and prepare.

Avoiding walking dogs in the evening, playing masking sounds and providing safe spaces for pets to hide are among the practical steps pet-owners can take to mitigate welfare risks.
In January 2018, the UK Government set up the Office for Product Safety and Standards following two Parliamentary debates - including one led by Clwyd South MP Susan Elan Jones - about the negative impact of fireworks. The RSPCA now wishes to see further action.

The renewed calls come amid a new survey which found that 38%* of dogs show signs of fear at loud noises, such as fireworks.

Lisa Hens, RSPCA companion animal welfare expert, said: "As people across Wales prepare to celebrate Guy Fawkes Night, we're issuing an important reminder about the problems fireworks can cause for pets, farm animals and wildlife.

"Some 38% of dogs show signs of fear at loud noises, while other pets, farm animals and wildlife can all be impacted negatively by firework displays.

"In Wales, over the last five years - from 2013 to 2017 - we've received 152 calls flagging concern for animals amid fireworks; and we're preparing ourselves for more in the coming days.

"Fireworks can lead to serious welfare concerns for many animals, but noise phobia is a treatable condition in pets. Giving owners time to prepare is a key step in mitigating these risks.

"We know Bonfire Night can be an exciting time of year - and believe these key steps will ensure the occasion is safer for our animal friends."