World's Biggest Cruise Ship Visits Southampton
15 October 2014, 10:56 | Updated: 30 March 2016, 13:50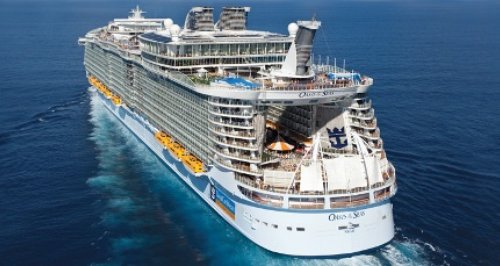 Southampton welcomes the world's biggest cruise ship today - as Oasis of the Seas makes it's first visit to the UK.
The Royal Caribbean liner is longer than four football pitches and can take more than 6,000 passengers on board.

Oasis also has a zip line, ice rink, water park and even an outdoor park complete with trees.
The ship docked at the City Cruise Terminal at about 10am after making it's way into Southampton Water.
People lined the sides of the water to watch her arrive, as she dwarfed a Red Funnel car ferry on her way in.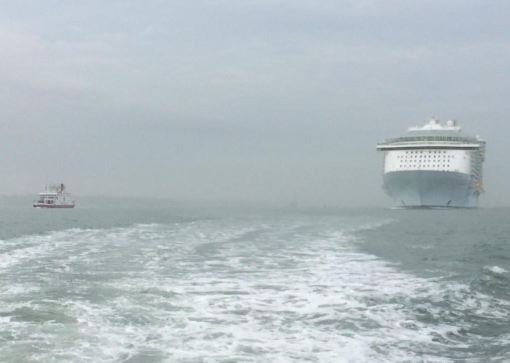 (Picture: ABP Southampton)
A tugboat welcomed Oasis in by spraying a fountain of water.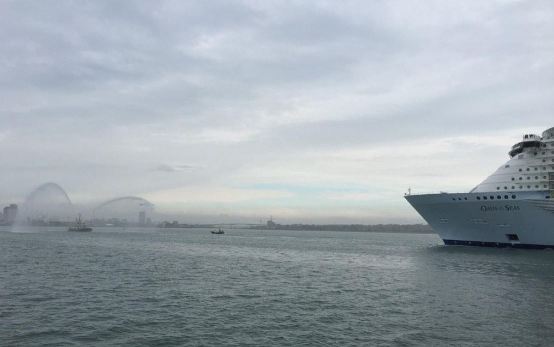 (Picture: Royal Caribbean)
Accommodating 6,400 guests at total capacity, Oasis of the Seas is wider than almost six London buses parked end-to-end and is a huge 225,282 Gross Registered Tons.
Oasis of the Seas is 40 per cent larger than any other cruise ship to ever dock in the UK and joins two further Royal Caribbean International cruise ships based in the port.