Two Men Jailed Over Southampton Gun Haul
24 February 2014, 18:03 | Updated: 30 March 2016, 13:50
Two Southampton men have been sentenced to a combined 13 years in prison after a haul of guns and ammo was found at a flat in the city.
Hampshire Constabulary's Serious and Organised Crime unit seized firearms and ammunition from a flat in Albion Towers, Golden Grove, Southampton as a result of an intelligence led warrant on Tuesday 29 October 2013.

Two large holdalls full of weapons and ammunition were seized.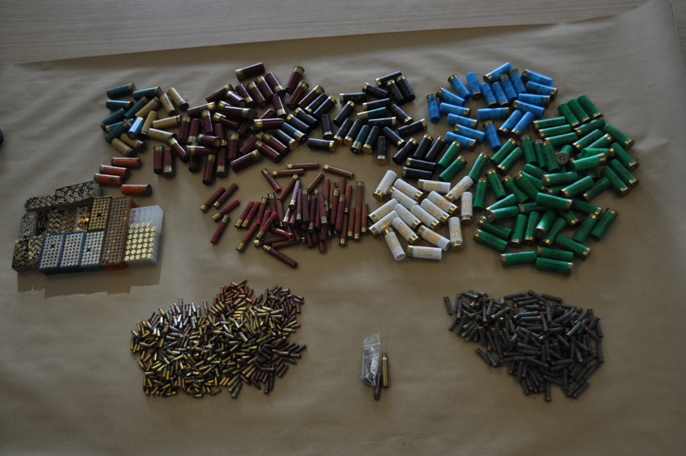 Senior investigating officer, Detective Inspector Ellie Hurd said:
"This haul of firearms was being stored at the flat. We have no evidence to suggest that the weapons have been involved in recent crime; however the fact that many were operational and stored with ammunition suggests they had a criminal purpose, although not necessarily for use in Southampton.

"These firearms, which obviously pose a significant risk to members of the public, have been removed from potential circulation within organised crime groups and will now be destroyed."

Hampshire Constabulary Chief Constable Andy Marsh is Association of Chief Police Officers lead for firearms licensing. Mr Marsh commented on the case:
"This case demonstrates the success of the Operation Fortress project to tackle drug related crime in Southampton. It was as a result of intelligence gathered by the Operation Fortress team that this warrant was obtained, an excellent investigation by the serious and organised crime unit followed and led to successful convictions for serious firearms offences.

"It is encouraging that the Police and Crime Commissioner Simon Hayes has pledged further support to Operation Fortress, providing funding to run the project force wide for another year. This will enable us to continue the work already established with partners in Southampton and replicate this success elsewhere in the force area."

Two men arrested and later charged in connection with this investigation have been sentenced today (Monday 24 February) after pleading guilty to possession of firearms and ammunition.

46-year-old Peter Stanley Castle of Alder Road, Southampton pleaded guilty to:

Seven counts of possessing a prohibited s5 firearm
One count of possessing a s1 firearm
One count of possessing expanding ammunition
One count of possessing S1 ammunition without a firearm certificate
One count of possessing ammunition without a firearms certificate
Two counts of possessing ammunition when prohibited

Peter Castle was sentenced to five years for s5 firearms and ammunition, 3 years S1 firearms and ammunition, to run consecutively (total eight years).

43-year-old Thomas William Graham of Golden Grove, Southampton pleaded guilty to:

Seven counts of possessing a prohibited s5 firearm
One count of possessing a s1 firearm
One count of possessing expanding ammunition
One count of possessing S1 ammunition without a firearm certificate
One count of possessing ammunition without a firearms certificate

Thomas Graham was sentenced to five years.

During the warrant at the flat in Albion Towers in Golden Grove on Tuesday 29 October 2013, 16 firearms were seized along with over 1,500 rounds of ammunition, silencers and other accessories, including the following:

Browning 9mm pistol loaded with two cartridges
Hil single action pistol
.22 calibre pistol
Derringer style pistol
Duelling style pistol
'English Bulldog' revolver
.380 calibre Webley revolver
Sawn-off shotgun
Frame and trigger of a Webley Mark 6 revolver
Muzzle loading revolver
Flintlock pistol
597 rounds of hollow point and one round of soft point .22 calibre ammunition designed or adapted to expand on impact
526 rounds of cartridge ammunition
Nine rounds of pyrotechnic shotgun ammunition
251 rounds of shotgun ammunition
202 .22 shotgun cartridges