Train Disruption In Hampshire For 'Several Weeks'
4 February 2014, 07:28 | Updated: 30 March 2016, 13:50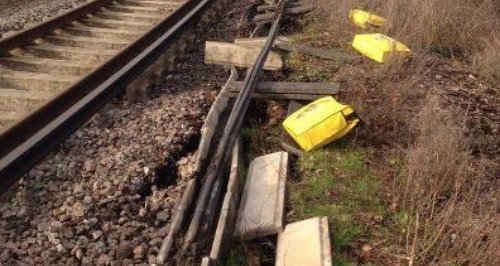 Train services in Hampshire are expected to be disrupted for several weeks because of a landslide between Eastleigh and Fareham.
South West Trains services have been suspended on that route following a severe landslide in the Botley area at the weekend. As a result, a rail replacement bus service will run between Eastleigh and Fareham until further notice.

A South West Trains - Network Rail Alliance spokesperson said:
"We apologise to passengers that rail services between Eastleigh and Fareham are suspended following a land slip in Botley. Engineers have assessed the site and significantly more work is required than previously anticipated. Further assessments will be made over the following few days and we anticipate it will be several weeks before services can resume. We will continue to provide further updates as the situation develops. "

"The slip first came to light early on Saturday morning and progressively worsened until an 80-metre section of railway sunk by more than a metre. Both sides of the embankment have begun to slide outwards.
Plans are being drawn up to repair the slips, including building access to the site.
"With the land around the railway - and the railway itself - completely saturated, the continuing storms have put increasing stress on the network. Engineers from the Network Rail / South West Trains Alliance are closely monitoring the situation with further bad weather expected this week."
The South Coast was soaked by record rainfall in January and more heavy rain, strong winds and tidal surges are expected this week.
Mike O'Neil from the Environment Agency says they will be keeping a close eye on a few areas:
"We are going to be paying particularly close attention to the Rivers Test and Itchen, through Romsey, Winchester, Havant, Southampton, Portsmouth and Emsworth - the catchments that respond very quickly to intense rainfall events.
"We've been looking at two or three months of rain in about six weeks. We haven't seen weather like this since 2001 and we're not out of the woods yet because we've got more heavy rain to come this week, and more storms."