Southampton Hosts Biggest Ship To Dock In UK
12 May 2017, 11:17 | Updated: 12 May 2017, 11:21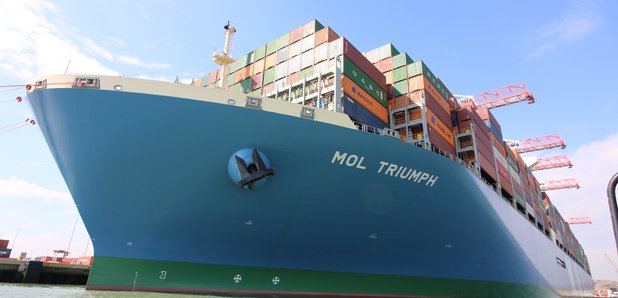 The biggest ship ever to dock in the UK has arrived in Southampton.
The massive container ship MOL Triumph - which is almost 40 metres longer than the biggest cruise ships - is in the city until Sunday 14 May.
Despite its huge size, it only needs a crew of about 20.
The 20,170 teu capacity MOL Triumph is the first of a new breed of ultra large container vessels to enter service this year. This is the 400m long, 59m wide vessel's first call at a UK port and its first call into Northern Europe.
The port will also welcome the even bigger 20,568teu Munich Maersk later this year.
Chris Lewis, UK Managing Director, DP World, said:
"It is an honour to be hosting one of the world's largest container ships as it arrives in Northern Europe for the first time. And the start of Asia-Europe calls at London Gateway means the River Thames is, once again, a truly international port and shipping hub.
"Our UK ports offer greater choice for shippers. This is a unique provision; a two-port strategy and Logistics Park, capable of facilitating faster, more reliable supply chains, with enhanced visibility and wherever possible, an ability to offer bespoke solutions to any supply chain challenge.
"Our customers and their customers can be assured that we will continue to work tirelessly to deliver the very best service for vessels of all sizes, operating on all trade routes - and to help make supply chains as efficient as possible."
(Photos: DP World Southampton)