Soldiers Flown To Southampton General After Road Crash
18 June 2015, 08:19 | Updated: 30 March 2016, 13:50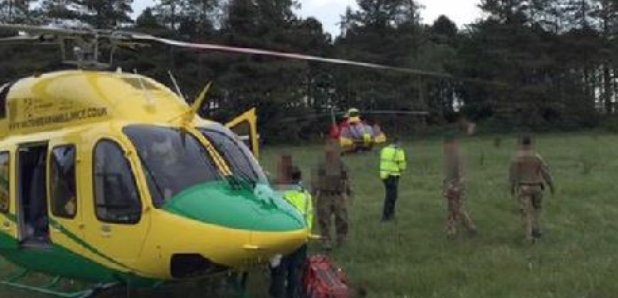 Two soldiers are in Southampton General Hospital with life-threatening injuries after a crash on Salisbury Plain.
Up to 20 military personnel were injured in a crash between three troop carriers, police said.

At least four people have been left with ``life-changing injuries'' while the others are ``walking wounded'' following the incident, which happened yesterday (Wednesday 17 June) at 6.30pm in a field near Westdown Camp.
It's understood two were flown by air ambulance to Southampton General, for treatment for what are described as life-threatening injuries.

A Wiltshire Police spokesman said they received a call from the air ambulance at 6.30pm. ``First responders and three military ambulances were also at the location,'' the spokesman said.

``We had reports of four to five people with life-changing injuries and approximately 16 others 'walking wounded'.

``The road traffic collision happened on a by-way which cuts through The Plain, hence why we were called.

``It is still regarded as a Wiltshire Police matter as it's on a by-way, although it's off the main road.''

An Army spokesman said:
``We can confirm that there has been a road traffic collision in the Salisbury Plain training area in which it is understood there are a number of casualties.

``The British Army is supporting Wiltshire Police and South West Ambulance Service with their response to the incident which will be duly investigated.''

Wiltshire Air Ambulance, which attended the scene, said on Twitter: ``Our thoughts are with all those involved in the Salisbury Plain incident and their families this evening. We're thinking of you.''