Small Earthquake Hits Winchester
28 January 2015, 12:38 | Updated: 30 March 2016, 13:50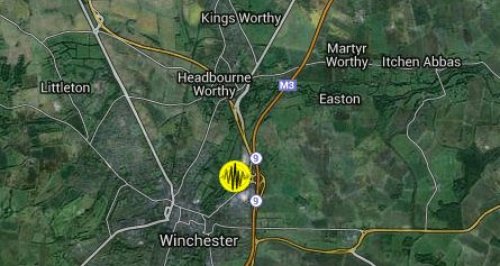 Experts say there could be small aftershocks in the north Winchester area, after a 2-point-9 magnitude earthquake last night.
Hampshire Police said they had received lots of calls from concerned residents in the Kings Worthy area following reports of something which ``felt like an explosion which shook their houses''.

The quake, is believed to have hit the Hampshire town at about 6.30pm yesterday (Tuesday 27 January) at a depth of three kilometres, according to the British Geological Survey website.

A police spokesman said it had been speaking to its partner agencies and that no explanation or cause for the shaking could be found.

He said:
``No injuries have been reported.

``We will continue to investigate to see if a valid explanation can be found but in the meantime would urge all those who heard or felt it not to be alarmed.

``If we find out what it was, we'll let you know.''

Hampshire Fire and Rescue Service called the earthquake, which happened south of the village of Headbourne Worthy, ``impressive'' and also tweeted: ``Seems like reports of small tremor in #Winchester area this evening true, our crews have been out and found nothing #earthquake.''

Jen Gupta tweeted: ``Our house in Winchester just shook enough to rattle glasses in the cupboard, accompanied by a boom sound!''

While Robert Hilton said: ``South Wonston just got what seems to be an #earthquake #winchester everyone out on the street, car alarms going off and dogs barking.''

The BGS said it had received a report from a residents who said ``the whole bed was visibly shaking'' as well as one who said the earthquake sounded ``like a bus'' crashing ``into the neighbours house at speed''.

Another told the BGS: ``At least five other households ran outside to make sense of what had shook the houses.''

In October last year, residents living in Nottinghamshire reported a ``big bang and sharp shaking'' which the BGS confirmed as an earthquake measuring 2.6 on the Richter scale.

Earthquake data released in July last year showed that an increasing number of earthquakes had been recorded in the UK.

One hundred earthquakes were recorded in the first three months of last year and 149 in total up until July, compared to 154 throughout 2013, 64 in 2006 and 111 reported in 2005, 2007 and 2011, according to official figures.

The most powerful tremor was registered as 5.2 in February 2008.

Homes were shaken across large parts of the country when the earthquake hit.

The BGS reported the epicentre was in Market Rasen in Lincolnshire.
(Map from BGS website.)