Rare Leopard Cub Born At Marwell Zoo Near Winchester
24 June 2014, 11:55 | Updated: 30 March 2016, 13:50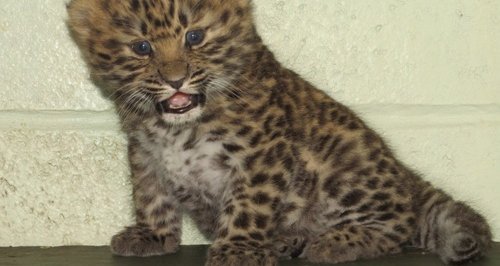 Marwell Zoo near Winchester has announced the arrival of an Amur leopard cub - one of the world's most critically endangered species of big cat.
Born to mum, Kaia, and dad, Akin, the little leopard is an important addition to the European Endangered species breeding Programme.

It is estimated that there are as few as 30 Amur leopards left in the wild. This tiny population which survives today is under serious risk of extinction and maintaining a healthy captive population is crucial to the global conservation of the species.

Marwell's new arrival is now four weeks old and is just starting to find its feet. Mum Kaia is currently nursing the cub in her den, where they will remain until necessary vaccinations are complete and it's safe for the cub to venture outside.

John Pullen, Marwell Wildlife's Curator of Mammals said:

"The birth of an Amur leopard is fantastic news and we are all very excited by this arrival. Marwell's keepers and veterinary team are monitoring Kaia and her cub and both appear to be in good condition and healthy.

"We are keeping disruption to a minimum and allowing mum and cub some space to bond in the privacy of their den.

We are all looking forward to watching this youngster grow, develop and explore its new home at Marwell."

The zoo will announce the sex of the cub at a later stage once further health checks have been completed. It is anticipated that the young leopard will be on public view in the main enclosure towards the end of August.

Tim Woodfine, Marwell Wildlife's Director of Conservation added:

"This cub is an important addition to a successful breeding programme which has future plans for Amur leopard re-introductions into the wild. This birth is a great outcome for the hard work which takes place at Marwell."

There are currently two Amur leopards living at the zoo, Kaia who is six years old and Akin who is 13. Both arrived at Marwell as part of the European Endangered species breeding Programme and this is their first cub together.

Marwell's last Amur leopard cub was born in 2007 and was named Kiska. Kiska went on to Dortmund Zoo in 2009 to start a family of her own.