Queen Welcomes Portsmouth Supercarrier Into Royal Navy
7 December 2017, 12:51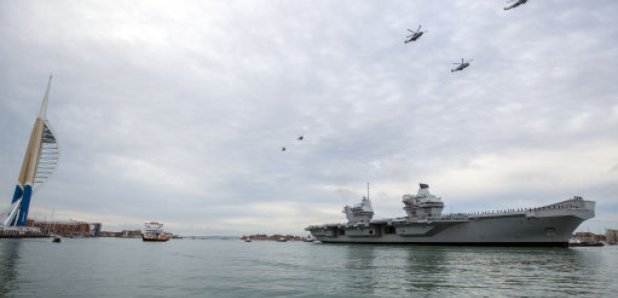 The Queen's visited Portsmouth, to formally accept a new giant aircraft carrier into the Royal Navy.
Accompanied by the Princess Royal, Her Majesty arrived on board HMS Queen Elizabeth at the Naval Base using a specially installed lift to bring her up to the hangar for the occasion. Wearing a purple outfit, she was led onboard by the ship's commanding officer Captain Jerry Kyd.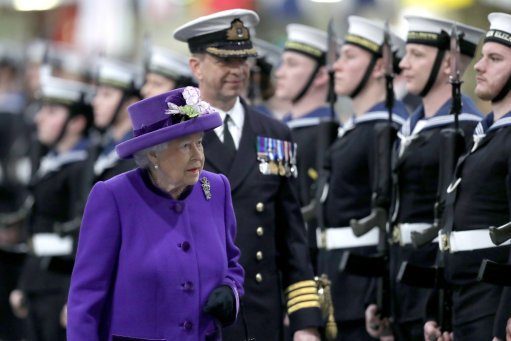 Defence Secretary Gavin Williamson also attended to witness the 65,000 tonne vessel being welcomed into the fleet.
At 280 metres long and with an estimated half a century working life, the warship is the biggest and most powerful ever built by the UK.
A total of 3,700 guests including families and VIPs gathered in the ship's giant hall for the ceremony.
On show were cakes created for the event including a scale model of the carrier and others depicting the Queen and sailors on parade, including one fainting sailor shown fallen on his face.
The ceremony was organised to commission the carrier into the fleet but the Aircraft Carrier Alliance confirmed that the Royal Navy had formally accepted the ship on Thursday, meaning it had been fully handed over to the MoD.
Mr Williamson said the commissioning ceremony "marks the start of a hugely significant chapter for the Royal Navy".
He added: "It is an honour to witness the crowning moment of an extraordinarily busy year for the Royal Navy that has seen us name the second carrier, HMS Prince of Wales, cut steel on the first Type 26 frigates and launch the National Shipbuilding Strategy.
"Our new aircraft carrier is the epitome of British design and dexterity, at the core of our efforts to build an Armed Forces fit for the future.
"For the next half a century both carriers will advance our interests around the globe, providing the most visible symbol of intent and commitment to protect the UK from intensifying threats, wherever they may come.
"It is absolutely relevant, HMS Queen Elizabeth will be serving in the Royal Navy for the next 50 years.
"The final captain of this ship has yet to be born.
"We have been working, the Navy have been working, the Ministry of Defence have been working to get it ready for the last 20 years.
"This is a very important moment."
On her arrival, the national anthem was played before the Queen and Anne inspected a guard on parade.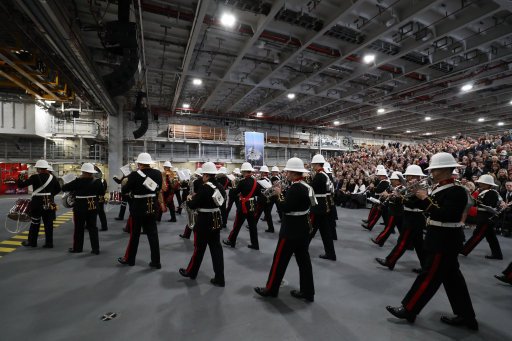 She then received the royal salute as the ensign was raised for the first time on the flight deck, broadcast into the hangar on large screens.
An audible sigh of relief could be heard from the ship's company as the ensign, initially slightly entangled, opened out fully and flew freely in the wind.