Portsmouth Lifeboat Crew Recover Car From Water
9 January 2015, 08:09 | Updated: 30 March 2016, 13:50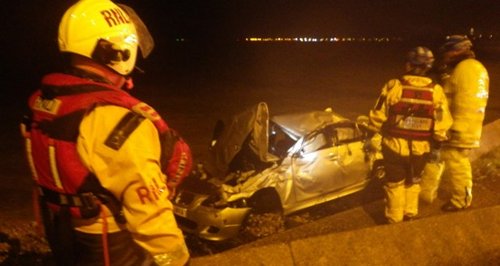 Portsmouth lifeboat crews have been called out after a car went into the water in Langstone Harbour.
The Portsmouth Inshore Lifeboat was launch launched at 1.07 this morning (Friday 9 Jan) - for the first time of the New Year.

Local Coastguard units were already on-scene with Police. They requested the Portsmouth Inshore Lifeboat (ILB) Brians Pride was launched to provide additional safety cover for the Coastguard members that had entered the water to assess the vehicle and aid the recovery operation.

On arrival it became clear that the vehicle had been involved in a road traffic incident along the Eastern Road, that had resulted in the car landing in the water. The driver had been seen exiting the vehicle by witnesses, but unsure as to whether any additional casualties remained, Portsmouth ILB stood by waiting for confirmation that the vehicle was in fact clear.

Once the vehicle was along side the harbour wall and the vehicle had been searched for evidence of a second person the ILB stood down and return to station shortly after 2.30am.