New Hampshire Campaign To Tackle 'Lethal Highs'
19 October 2015, 07:25 | Updated: 30 March 2016, 13:50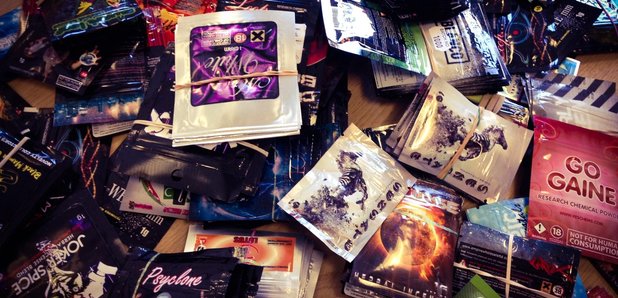 Hampshire's Police and Crime Commissioner's starting a fresh campaign warning so-called legal highs can be lethal.
Simon Hayes is trying to stop them being sold in shops and online, saying they're not safe just because they're legal.
The week will include talks by an ex-user in Havant on Tuesday and Southampton on Thursday (see below).
The Lethal Highs campaign is being launched in consultation with partner agencies that share the Commissioner's interest in protecting young people from harm caused by these substances, such as health, police, local government, youth groups and other third sector organisations.

The Police and Crime Commissioner has campaigned for some time for greater regulation of mind-altering substances sold online and in headshops, to prevent people risking their lives by taking drugs that could be lethal. Conversations between the Commissioner's Youth Commission with thousands of young people in Hampshire and the Isle of Wight consistently identify NPS as a major concern for young people in Hampshire and the Isle of Wight.

Simon Hayes said:
"With the number of deaths related to these substances increasing year on year, it is unsurprising that they are of great concern to young people. A clear message needs to be sent out that that just because these substances are being sold as legal, as a result of a loophole in the law, this doesn't mean they are safe."

Louis Faith from the Youth Commission said:
"I feel that NPS are more of a 'gateway' drug than any another substance. There are so many different types and just a small amount could harm your body because of all the bad chemicals they contain. I hope the Lethal Highs campaign will discourage young people from taking them."

Detective Chief Inspector Ellie Hurd said:
"Minimising the harm caused by the supply and use of New Psychoactive Substances (NPS) is a priority for us all.

"Consumption of NPS can cause serious physical and mental illness and even death. It is associated with increased anti-social behaviour, aggression and violence and has a significant impact on families and communities in Hampshire and on the Isle of Wight.

"NPS supply also has links to other crime types such as child sexual exploitation and other serious and organised crime. We are pleased to be working with the Youth Commision and other partners to raise awareness of NPS and the consequences of its use."

The Lethal Highs campaign aims to raise awareness among young people about what NPS are and the risks associated with taking them, so they can make informed choices or help others to do so.
The Youth Commission is calling on young people to help 'spread the word' that NPS are lethal highs and to have their say by completing a short survey. They are being encouraged to follow #lethalhighs on Twitter to view and share a number of short films that highlight key concerns relating to NPS. Through the campaign, they will also be signposted to useful resources that will help people of all ages make informed choices, or help others to.