New Forest Speed Campaign To Reduce Animal Deaths
24 October 2017, 09:57 | Updated: 24 October 2017, 09:59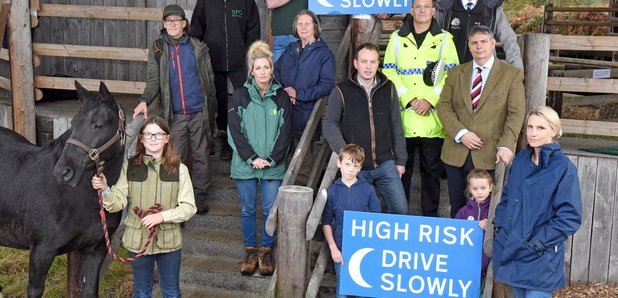 Organisations across the New Forest are asking drivers to slow down as the clocks go back - to prevent the usual autumn rise in animal deaths.
100 animals were killed or injured in the Forest last year - a quarter on four key routes on November and December evenings. About three quarters of the accidents involved local drivers.
New temporary warning signs are being put up.
Now New Forest commoners, the families who own the animals that maintain the Forest, have teamed up with other organisations to focus efforts on reducing accidents this winter. They are asking locals to add just three minutes to their journeys and drive slowly across the Forest.
Commoner Jo Ivey, of the Shared Forest project, has seen three of her ponies hit in two years, two of which died. She said:
"Last September I received the dreaded call to say that my best mare had been hit by a car at Hatchet Pond nearly Beaulieu. She was in foal and when I got to her she was covered in cuts and bruises and you could see where her head smashed the windscreen.
"She survived but sadly lost the sight in one eye due to the swelling on her brain. Fortunately the foal survived too - we called him Lucky Jim and they are both thriving now. The woman driver was in shock and said "I'm so sorry". The car was a write-off. I wish people would realise what a horrendous thing it is."
The campaign says 'ponies, donkeys, cattle, pigs and sheep are owned and cared for by people called commoners and every animal killed is a great loss to the Forest and to its owner. The animals have right of way on New Forest roads. Drivers need to expect them to step out, day and night.'
The #add3minutes campaign includes new temporary warning signs on key roads, the police mobile speed camera van out in the Forest, campaign messaging on bin lorries, social media activity and posters in local businesses. 10 of the Forest's largest employers have signed up to the campaign to encourage awareness among their staff.
Nigel Matthews, of the New Forest National Park Authority, convenes the Animal Accident Reduction Group of local organisations. He said:
"The majority of commuters are responsible, slow and careful drivers across the Forest. But it's easy to get complacent and we know that you are three times more likely to kill or injure an animal in the Forest after the clocks go back than before.
"So we're appealing to local people who use these routes to please #add3minutes to their journeys in the darker nights and drive slowly for New Forest animals."
The four main routes where accidents occur are:
- Lymington - Beaulieu - Dibden Purlieu
- Brockenhurst - Sway
- Burley - Picket Post
- Cadnam - Godshill