Man Dies In Solent Yachting Accident
12 August 2014, 10:02 | Updated: 30 March 2016, 13:50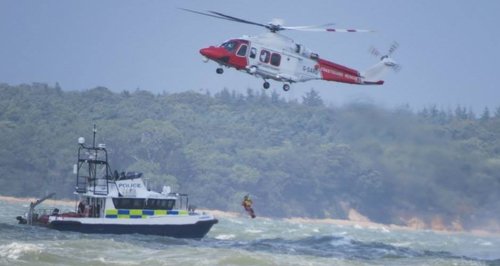 A sailor's died in the Solent after he was hit on the head by a yacht's boom during high winds.
Cowes RNLI lifeboat was among rescue services that attended a large yacht in which a man was fatally injured in the Solent yesterday afternoon (August 11).

The alert was sparked by a ketch radioing Solent Coastguards at 1pm that a person had been seriously injured.

The Cowes Atlantic 85 lifeboat, the police launch Commander and the Lee-on-Solent coastguard helicopter all went to the scene.
In a statement, the Maritime and Coastguard Agency said:
"A fatality occurred aboard a yacht in the Solent earlier today after a crew member was apparently struck on the head by the vessel's boom. Solent Coastguard received the Mayday call at 1255 BST.

"The police launch, Commander, the Cowes inshore lifeboat and the Solent search and rescue helicopter R104 were in attendance.

The helicopter's winchman was lowered aboard and the casualty was declared deceased on the vessel by the SAR Paramedic.

"The casualty remained on the yacht to be taken to Trinity Landing at Cowes, where the vessel was received by a Coastguard rescue team and Hampshire Police."
This was the second incident in two days that Cowes lifeboat had been called out to a yacht where a yachtsman had been a casualty of strong winds.
In the first a Norwegian was treated at St Mary's for arm and shoulder injuries, from an apparent accidental gybe.
It is understood that the yacht was based in Southampton and was on its way to Yarmouth but before the accident was diverting to Cowes because of the weather conditions.