London Airport Traffic To Be Controlled From Hampshire
19 May 2017, 10:19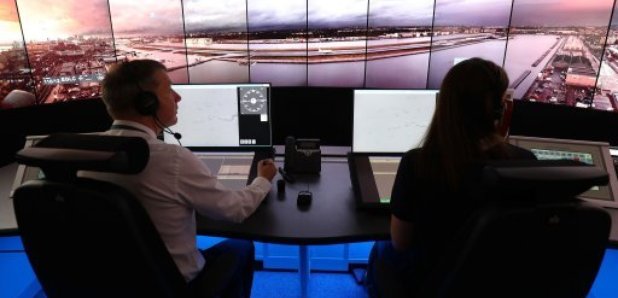 London City Airport will become the UK's first to have a digital air traffic control tower - controlled from 80 miles away in Hampshire.
After the traditional tower's decommissioned in 2019, planes will be directed by controllers at Nats in Swanwick watching high-definition live video.
The airport says they will see a 360-degree view of the airfield in more detail than by using the human eye. The technology has already been tested in Australia, Sweden, Norway and Ireland.
London City Airport chief executive Declan Collier insisted he is ``absolutely confident'' that the system is safe from the threat of a cyber attack. He said:
``No chief executive is complacent about threats from cyber security. Over the last week we've seen a major issue arise for the NHS.
``But we are very confident that the systems we're putting in place here are secure, they're safe, they're managed very well
``We use the highest level of cyber security in order to protect our systems.''
Under the existing system, controllers sit in a tower overlooking the runway to direct around 300 flights per day. A live feed from the 14 high-definition cameras and two cameras able to pan, tilt and zoom will be sent via fibre cables to a new operations room built at the Swanwick base of Nats, Britain's air traffic control provider.
Controllers will use the footage alongside an audio feed of ambient noise from the airfield and radar readings from the skies above London to instruct aircraft and oversee movements.
Building a new tower would cost around £10-30 million, and the price of installing the digital system - developed by Saab Digital Air Traffic Solutions - is expected to be in a similar range.
Mr Collier claimed it would be foolish to replicate the current tower during the upgrade of the airport:
``A pioneering new digital air traffic control tower system will enhance safety and improve resilience, setting a new standard for the global aviation industry to follow.
``The way technology is moving, over the next 30 years this is going to be the norm for airports worldwide, using this type of augmented digital technology to help air traffic controllers manage flight movements in and out of airports.''
Construction of the 50-metre tall digital tower - 32 metres higher than the existing version - will begin later this year and is due to be completed in 2018. After more than a year of testing, it will become fully operational in autumn 2019.
Nats airports director Mike Stoller said:
``Digital towers are going to transform the way air traffic services are provided at airports by providing real safety, operational and efficiency benefits.
``We do see this as being a growing market place across the UK and the world.''
Some 4.5 million passengers used London City Airport last year. It is embarking on a £350 million development programme including new aircraft stands and an extended terminal building to enable it to serve two million more passengers per year by 2025.