Hampshire Officers Up For Bravery Award After Fire Rescue
16 October 2014, 06:10 | Updated: 30 March 2016, 13:50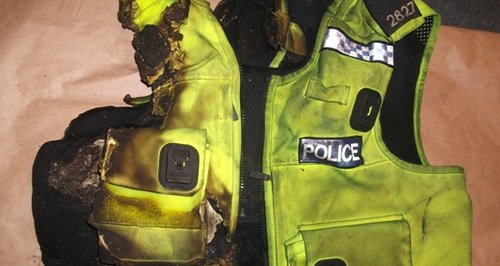 Two Hampshire police officers have been nominated for a national bravery award after putting themselves in danger to rescue an elderly lady from a burning house.
Sgt West and PC Starr, along with other officers responded to a call on 9 February 2013 from 83 year old Mrs Elizabeth Sanger-Davies who believed her house in Romsey was being broken into. On arrival they found the property ablaze with smoke billowing from every window.

Mrs Sanger-Davies was trapped in an upstairs bedroom and could be seen at the window shouting for help. There was no way to the ground floor as the fire was so intense so PC Starr ran to get a ladder and climbed up to the window.

The window was small. As he got closer he saw that there was also a dog in the room. He tried to force open the window but it wouldn't open very far. The situation was critical and he punched at the glass with his fists, managing to break it but the metal window frame couldn't be opened. The smoke was getting thicker, tiles were popping from the roof and windows were cracking due to the intense heat. Mrs Sanger-Davies was shouting for help and was being overcome by the thick smoke.

Sgt West shouted that she would try as she was smaller. She went up the ladder and using her baton smashed the rest of the window to let more air in. The frame still wouldn't open so she placed PC Starr's body armour over the shards of glass and pulled Mrs Sanger-Davies half out of the window so she could get more air. The whole house was now ablaze with windows smashing and debris falling from the roof.

Sgt West continued to hold onto Mrs Sanger-Davies at the top of the ladder until the fire service arrived. Both Sgt West and Mrs Sanger-Davies were assisted down the ladder where they were both treated for smoke inhalation.

Mrs Sanger-Davies made a full recovery but her pet dog died in the fire.

John Apter, Chairman of Hampshire Police Federation, said: "Sgt West and PC Starr acted instinctively, their selfless and courageous action saved the life of Elizabeth. Police officers perform a difficult and dangerous job to keep the public safe, on this occasion they put themselves at risk to save the life of another. They are true heroes and I am very proud of them."

John Bonney, Hampshire's Chief Fire Officer said: "The bravery and professionalism shown by these officers is a credit to them and the Constabulary. I have no doubt that their swift and courageous action saved the life of this lady."

Andy Marsh, Chief Constable of Hampshire Constabulary said: "Sgt West and PC Starr demonstrated great bravery in a difficult situation. I am very proud of them."

The victim of the fire, Mrs Elizabeth Sanger-Davies, simply said: "Thank you for saving my life, thank you."
The ceremony for the Police Bravery Awards, hosted in partnership with Police Mutual, will take place today (16 October) at Plaisterers' Hall, London.
Meanwhile, independent crime-fighting charity Crimestoppers is now offering a reward of up to £5,000 for information leading to the arrest and conviction of those responsible for the arson attack in Highwood Lane.

The devastating blaze was eventually extinguished by a team of 40 firefighters.

Roger Critchell, Director of Operations at Crimestoppers, said:
"This must have been a terrifying ordeal for Mrs Sanger-Davies. Not only did she lose the home she had lived in for more than 50 years, and suffer injuries as a consequence, but she also lost her beloved pet dog.

"It is horrendous to think that anyone would deliberately endanger the life of an elderly woman in this way. We hope that they will be brought to justice.

"We urge anyone with information about this attack to contact Crimestoppers anonymously. Our phone line and anonymous online form are accessible 24 hours a day.

"You have nothing to fear by contacting us. Your identity will not be revealed. We don't record or trace calls and we can't track information given online."

If you have any information on this attack, contact Crimestoppers anonymously on 0800 555 111 or through the anonymous online form at www.crimestoppers-uk.org.