Firefighters Rescue A Cow In Southampton
19 May 2014, 16:30 | Updated: 30 March 2016, 13:50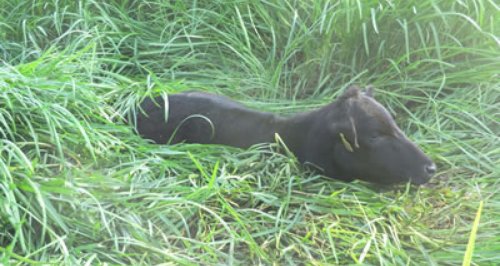 A cow was pulled to safety by fire crews after becoming trapped in a bog in Southampton yesterday.
Following a call from a local farmer, control room operators mobilised animal rescue specialist Buster Brown to Gaters Mill nature reserve, Swaythling, just before 5pm.
A 14-month old Aberdeen Angus cross heifer had become stuck in deep boggy mud and was trapped close to the River Itchen.
Crews from Overton, St Marys and Lyndhurst were able to place a strop around the cow's body and pull it free from the mud. Buster said:
"It's not uncommon for us to assist in such incidents and using prescribed methods approved by the veterinary industry, the cow was safely assisted to dry ground where it was returned back to its herd.
"The farmer was in attendance throughout the rescue and was very grateful for our assistance."