Fareham Rainbow Centre Saved From Closure
16 May 2014, 09:40 | Updated: 30 March 2016, 13:50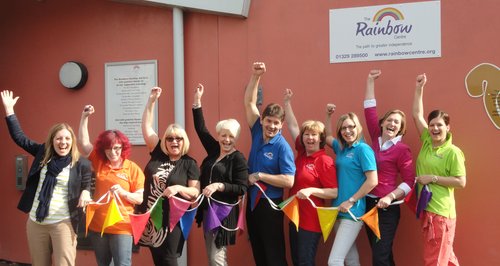 More than 156-thousand pounds has now been donated to the Rainbow Centre in Fareham since a crisis appeal was launched in March.
People who have supported the Rainbow Centre's appeal are invited to attend a celebration open day to mark the Centre surpassing its crisis appeal target of £150,000. And officially drawing the appeal to a close.
Many local organisations have come together to offer their support and services completely free of charge to help the Centre celebrate their success and to thank everyone.
Centre Director, Lara Bull says:
"So many people have contributed to our appeal to make sure our service remains open, but have not given us their contact details so we have been unable to say thank you. For anyone that has supported us, we are holding a celebration open day so that you can visit the Centre and see firsthand how your donations will be used. We would also really like the opportunity to thank those that have helped us and meet our team.
"Words cannot express how grateful we are; the team, the children, families and our adults and carers will all see the benefit of everyone's support."
The Centre has raised £156,600 through its appeal so far, with people continuing to donate and show their support providing them with extra time and security whilst they build a broader spread of sustainable income streams.
There are also a number of organisations and individuals who have committed to a longer term relationship with the charity through other fundraising initiatives such as their 100 Club Corporate Regular Giving scheme and the Raindrops Regular Giving scheme that they operate.
This is fantastic news for the Centre and ensures that they continue to have financial security moving forward.
The open day is due to be held on Saturday, 21st June and people are invited to the Centre from 12 noon-4pm when a range of activities will be available to both adults and children and will include; the Jungle Buddies Playbus, Laserquest arena, Bluewatch Fire Engine, craft activities, stalls, face painting, story-telling, as well as live entertainment, food and refreshments.
To book a place please contact The Rainbow Centre team by calling 01329 289 500 or email enquiries@rainbowcentre.org