Drink-Drive Crash Car On Display On Isle Of Wight
5 December 2013, 05:53 | Updated: 30 March 2016, 13:50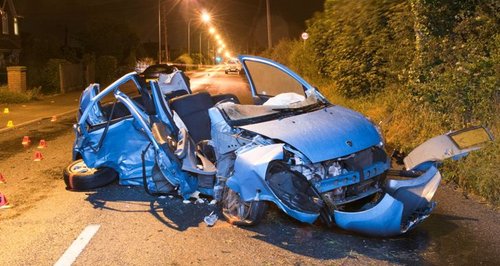 The wreckage of a car which was involved in a fatal drink-drive crash on the Isle of Wight will go on display in Newport later.
The crashed car display belongs to the Staley family from Newport. The vehicle was decimated when it was hit by a driver who was two-and-a-half times over the drink/drive limit and had been smoking cannabis.

Ten-year-old Evey Staley was killed in the collision-which also seriously injured her parents Penny and Neal.

The driver of the car, Robert Blakely is serving ten years in prison.

The crashed vehicle display starts at Newport on Thursday 5 December. It will be staffed by officers from the Roads Policing Unit, supported by colleagues from the Isle of Wight Fire Service and ambulance service.

Members of the public will be able to speak to officers to gain advice and guidance to keep them safe this festive season, and officers will also explain the Purple Ribbon Campaign and hand out leaflets which tell Evey's story.

The campaign is once again supported by Hampshire County Council, Hampshire Fire and Rescue Service, South Central Ambulance Service, the Isle of Wight Road Safety Partnership, Southampton City Council and many other partner agencies.

Inspector Andy Storey, leading the campaign in Hampshire and the Isle of Wight, said:
"If anyone thinks that driving whilst impaired has no consequences then they should take a look at the vehicle that is being used in this display.

"There can be no more powerful a reminder that impaired driving costs lives and ruins many others.

"If you are going out this Christmas and drinking then please ensure you have a means of getting home that does not involve you doing the driving.
"On the Isle of Wight alone we have already had one positive breath test on and one unfit to drive. If you ignore our advice we will catch you, you will lose your licence and you will be fined."

Steve Apter, the Isle of Wight Fire and Rescue Service Chief Fire Officer said:
"We fully support Hampshire Constabulary's drink and drug driving campaign this year.

"I cannot begin to imagine both the physical and emotional suffering the Staley family went through following the collision and they deserve the upmost respect and credit for supporting the campaign by allowing their actual vehicle involved that night to be displayed.

"Hopefully lots of people will see the display in Newport, Ryde and Cowes, see the consequences of drink or drug driving and think it really is not worth the risk."