£30m Southampton Arts Complex Opens
16 February 2018, 07:23 | Updated: 16 February 2018, 08:08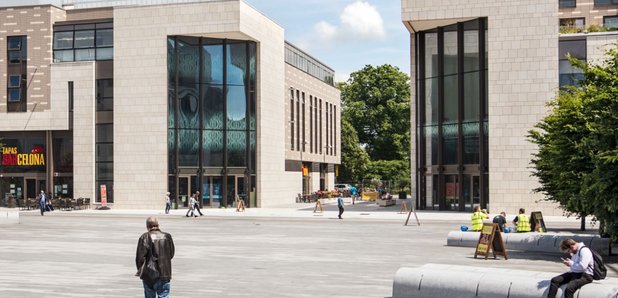 The final piece of Southampton's Cultural Quarter is in place, with new arts venue Studio 144 opening.
The £30 million complex takes in Nuffield Theatres, John Hansard Gallery and City Eye film. There are street performances to celebrate, before fireworks this evening.
It's been purpose-designed and built to support and promote culture, through theatre, visual arts, film and music within the city centre. The opening of Studio 144 is a significant development in Southampton's cultural regeneration programme and is the latest VIP project in the £3 billion City Centre Master Plan to be completed.
An integral part of the Cultural Quarter, Studio 144 is situated at the heart of the city on Above Bar Street, Guildhall Square. It has been designed to ensure the space is versatile enough to accommodate a range of art forms that will appeal to a broad spectrum of cultural and artistic tastes.
Councillor Satvir Kaur, Cabinet Member for Communities, Culture and Leisure, said:
"Southampton is on a journey to becoming the cultural destination in the south and the opening of Studio 144 is an important milestone of this journey. Not only will Studio 144 boost the local economy, creating hundreds of new jobs and bringing in thousands more visitors into Southampton, but is also great for city pride and will put Southampton on the map.
"The arts are increasingly being used to help address social needs in the city. The organisations that are moving into Studio 144 have undertaken amazing projects in Southampton, from working with disadvantaged children in our most deprived areas, to helping to tackle mental health and working with Southampton's Youth Offending Service to reduce re-offending.
"This development has been years in the making, so I would personally like to thank everyone who has been part of its journey. I wish the tenants every success, and I am confident they will continue to have an impact and be enjoyed by generations to come both near and far."

Brad Roynon, Chair of Southampton Cultural Development Trust commented:
"It is through Southampton City Council's sheer dedication to delivering the new arts venue that the city centre's Cultural Quarter is about to become a reality. We now have a resilient and exciting partnership between the local authority, the University of Southampton and our cultural partners.
"Studio 144 will be home to two world-class arts organisations and our much-loved film organisation. Combining these with other established organisations including the Mayflower Theatre, the City Art Gallery, the O2 Guildhall, Turner Sims Concert Hall, Southampton Solent University and the Sea City Museum, will create a new critical mass, capable of changing perceptions of the City as a vibrant and diverse centre for arts and culture."
For more information go to:
http://www.discoversouthampton.co.uk/events/southampton-celebrates-in-guildhall-square-19391
(Picture: Thierry Bal)