£1.5m Of Fake Designer Pants Seized At Southampton Port
8 December 2017, 08:16 | Updated: 8 December 2017, 08:17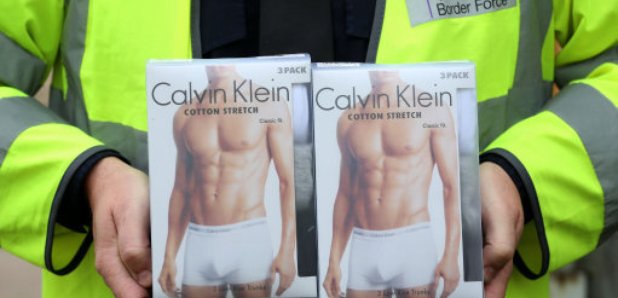 £1.5 million worth of fake Calvin Klein pants are among goods seized at Southampton port ahead of Christmas.
Counterfeit Apple chargers, Superdry hoodies and toys have also been confiscated by Border Force officials there.
It's part of raids at UK ports, with a warning not to buy fakes as presents this Christmas because they could be dangerous and fund organised crime.
Among the items seized in recent weeks were:
- 82,320 Calvin Klein underpants worth approximately £1.5m at Southampton port
- 450 Dyson fans and Apple chargers worth approximately £182,500 at Southampton port
- 1,440 Superdry hoody tops worth approximately £100,000 at Southampton port.
- 2,112 Spiderman, Pokemon and Hello Kitty hand held fans worth approximately £31,680 at Southampton port.
- 16,000 Gillette Mach 3 razor blades worth approximately £143,840 at Heathrow Airport.

- 1,530 Pandora charms worth approximately £45,900 at Manchester Airport
- 379 Barcelona and Borussia Dortmund football shirts at Dover Port worth approximately £16,149
- 48 pairs of Nike Vapormax trainers worth approximately £5,760 at Manchester Airport
Immigration Minister Brandon Lewis said:
"The international trade in counterfeits is linked to serious and organised crime and undercuts honest traders, damaging our economy.
"Customers are also left out of pocket with inferior and potentially dangerous goods.
"We are determined to crack down on this criminality and have Border Force officers working 24 hours a day at ports, airports and mail sorting centres to identify and seize counterfeits."
Ros Lynch, Director of Copyright and Enforcement at the Intellectual Property Office, said:
"We are delighted with the work undertaken through the year by Border Force. We believe that interventions at the border are the most effective way to reduce the flow of counterfeit goods into the UK. This work supports our Government Strategy on IP enforcement and helps protect consumers from the dangers of counterfeit goods."
Those involved in counterfeiting are in the business to take advantage of consumers and make huge profits in the process. The goods are often of inferior quality, dangerous and the proceeds can be used to fund other serious organised crime. Counterfeiters have a total disregard for safety or quality, and even if items look genuine at first, they may end up being a dangerous or inferior copy.
Once items are seized, Border Force's specialist international trade teams work with the owners of big brands to establish whether or not goods are genuine. If they are fake, the goods are destroyed and the rights holders can then decide whether to privately prosecute the importers.
Border Force South Director Sue Young said:
"Counterfeiters will look to capitalise and cash in where there is a demand for a product and this year our officers have seized all sorts of fake goods - from beauty products to food and electrical goods.
"We urge consumers to be careful with their purchases. If the price appears too good to be true - either at a car boot sale, a market stall or online - it probably is."


Anyone who has been sold counterfeit goods or knows someone who is selling them should contact Action Fraud on 0300 123 2040.