£10m Work Starts To Widen Hampshire's A27
24 October 2016, 10:07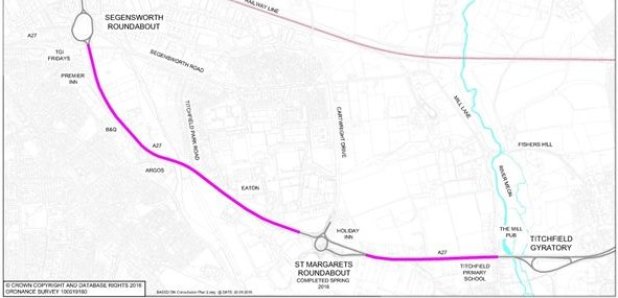 Work starts today on a £10 million, 18-month project to widen the A27 between Segensworth and Titchfield.
Hampshire County Council's making the busy road two lanes in both directions - to reduce traffic jams.
The off-peak lane closures won't be in place yet though.
Hampshire County Council's Executive Member for Environment and Transport, Councillor Rob Humby, said:
"This is a major piece of work which will have many benefits to residents, businesses and those travelling through the area. By easing congestion through increasing the capacity of the road network, we know it will encourage further economic growth and investment. The £10 million scheme has been designed to reduce congestion and improve traffic flow, as well as enhance safety for pedestrians and cyclists. This is the next phase of major transport and highways investment by Hampshire County Council to improve access to Fareham and Gosport.
"Fareham and Gosport have already seen around £50 million of investment in highways and transport in the past five years, and this next stage will complement those schemes already completed, to make people's journeys through the area easier and more predictable. However, I am sympathetic to local residents who have had to tolerate driving through a number of different roadworks, and I can only thank them for their patience and hope that the benefit of the finished scheme will far outweigh this short term inconvenience."
As well as providing two lanes in each direction, a third lane will be introduced to the nearside of the A27 Southampton Road approach to the Segensworth Roundabout; U-turns will be banned by Hambrooks Garden Centre (however the right turn will be kept); and an off-road pedestrian and cycle path will be installed along the north side of the A27 Southampton Road between the crossing at Titchfield Park Road and Mill Lane.
This scheme has been promoted and developed by Hampshire County Council and joint funded with the Solent Local Enterprise Partnership.
This and the other schemes in Fareham and Gosport have the support of local residents who attended one of four public exhibitions held at local venues in June 2015. The exhibitions provided an opportunity for people to review and suggest amendments to the design proposals. Responses from the exhibition show that 66% of people strongly agreed or agreed to the objectives of the overall schemes that the County Council was implementing.