Terms: STV PLAYER – Nov / Dec 2018
7 November 2018, 13:32 | Updated: 9 November 2018, 10:33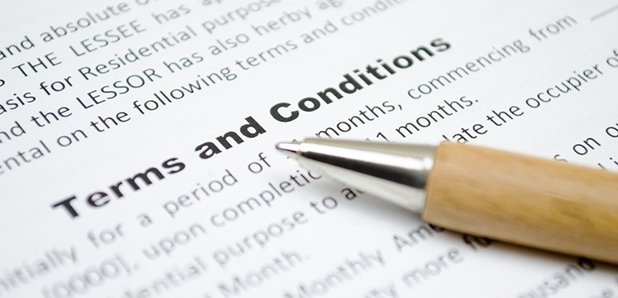 STV PLAYER – Nov / Dec 2018
RULES
The following rules ("Rules") together with Communicorp UK's ("Communicorp UK's") general and competition terms and conditions (the "Terms and Conditions") (which can be found at http://www.capitalfm.com/terms-conditions/ apply to 'STV PLAYER' – NOV/Dec 2018 radio competition ("the Competition") which will run from 19th Novth – 10th Dec 2018 ("the Duration"). The "Radio Station" is Capital FM.
Anyone who enters the Competition (an "Entrant") will be deemed to have understood these Rules along with the Terms and Conditions and will be bound by them. The Terms and Conditions are available on request from the Radio Station.
Details of the Competition:
To enter the Competition an Entrant must go online to Capitalfm.com/scotland, and answer the question
One winner be selected at random from all those who enter
Prize:
£1000
1 x Tablet - Samsung Tab A 10.1 Inch 32GB Tablet – Black
ABOUT THIS PRODUCT
Designed in a modern and comfortable style with a crisp and clear display, it provides a perfect viewing experience in any condition.
Modern design, comfortable viewing.
Valuable family time.
Enhanced connectvity and usability.
• Model number: SM-T580NZKEBTU.
Display:
• 10.01 inch screen.
• Resolution 1920 x 1200 pixels.
• IPS technology.
• Multi-touch screen.
• LED backlit display.
• Fingerprint resistant coating.
• Support for simultaneous display of multiple languages.
Specifications:
• 1.6GHz octa core processor.
• 2GB RAM.
• Internal storage capacity 32GB.
• microSD memory card slot.
• Front facing camera 2MP.
• Rear facing camera 8MP.
• Android 7.0 (Nougat) operating system.
General features:
• Built-in speaker.
• Wi-Fi enabled.
• Bluetooth - enabling you to easily and wirelessly connect with other Bluetooth enabled devices.
• 3.5mm stereo headphone jack.
• Microphone.
• 1 x USB 2.0.
• Micro USB.
• The minimalist design of the Galaxy Tab A (2017) provides an elegant and sophisticated look, making it the ideal choice for your modern life.
• With SideSync, you can connect your phone and tablet. Plus, it also allows you to make calls or send messages. You can conveniently check notifications from your phone in Dashboard mode and use the Quick Reply feature to answer messages promptly.
• The Galaxy Tab A (2017) offers an unrivalled mobile viewing experience. Its WUXGA (1920X1200) display features twice as many pixels as other standard HD screens.
Additional information:
• Up to 13 hours battery life (depending on usage).
• 8.2mm thin.
• Size H25.42, W15.53cm.
• Weight 525g.
• Manufacturer's 2 year guarantee.
• EAN: 8801643137663.
Eligibility:
1. 18s and over only
2. This competition is only open to those residing in the Capital Scotland TSA –
EH1 1
EH1 2
EH1 3
EH104
EH105
EH106
EH107
EH111
EH112
EH113
EH114
EH120
EH125
EH126
EH127
EH128
EH129
EH130
EH139
EH141
EH142
EH143
EH144
EH145
EH146
EH147
EH151
EH152
EH153
EH164
EH165
EH166
EH177
EH178
EH181
EH192
EH193
EH2 1
EH2 2
EH2 3
EH2 4
EH209
EH216
EH217
EH218
EH221
EH222
EH223
EH224
EH225
EH234
EH249
EH259
EH260
EH268
EH269
EH278
EH288
EH299
EH3 5
EH3 6
EH3 7
EH3 8
EH3 9
EH309
EH312
EH320
EH329
EH331
EH332
EH345
EH355
EH365
EH375
EH385
EH394
EH395
EH4 1
EH4 2
EH4 3
EH4 4
EH4 5
EH4 6
EH4 7
EH4 8
EH403
EH413
EH414
EH421
EH467
EH470
EH477
EH478
EH479
EH481
EH482
EH483
EH484
EH496
EH497
EH5 1
EH5 2
EH5 3
EH510
EH519
EH525
EH526
EH530
EH545
EH546
EH547
EH548
EH549
EH558
EH6 4
EH6 5
EH6 6
EH6 7
EH6 8
EH7 4
EH7 5
EH7 6
EH8 7
EH8 8
EH8 9
EH9 1
EH9 2
EH9 3
EH915
EH951
EH991
FK1 1
FK1 2
FK1 3
FK1 4
FK1 5
FK101
FK102
FK103
FK104
FK117
FK125
FK136
FK147
FK150
FK159
FK166
FK2 0
FK2 7
FK2 8
FK2 9
FK3 0
FK3 8
FK3 9
FK4 1
FK4 2
FK5 3
FK5 4
FK6 5
FK6 6
FK7 0
FK7 7
FK7 8
FK7 9
FK8 1
FK8 2
FK8 3
FK9 4
FK9 5
G 1 1
G 1 2
G 1 3
G 1 4
G 1 5
G 115
G 116
G 117
G 120
G 128
G 129
G 131
G 132
G 133
G 134
G 140
G 149
G 156
G 157
G 158
G 2 1
G 2 2
G 2 3
G 2 4
G 2 5
G 2 6
G 2 7
G 2 8
G 200
G 206
G 207
G 208
G 209
G 211
G 212
G 213
G 214
G 225
G 226
G 227
G 235
G 3 6
G 3 7
G 3 8
G 311
G 312
G 313
G 314
G 315
G 320
G 326
G 327
G 328
G 329
G 331
G 332
G 333
G 334
G 335
G 336
G 340
G 349
G 4 0
G 4 9
G 401
G 402
G 403
G 404
G 411
G 412
G 413
G 414
G 415
G 420
G 427
G 428
G 429
G 431
G 432
G 443
G 444
G 445
G 450
G 459
G 466
G 467
G 468
G 5 0
G 5 8
G 5 9
G 511
G 512
G 513
G 514
G 521
G 522
G 523
G 524
G 535
G 536
G 537
G 581
G 605
G 611
G 612
G 613
G 614
G 626
G 627
G 628
G 630
G 639
G 641
G 642
G 643
G 644
G 650
G 659
G 661
G 662
G 663
G 664
G 665
G 667
G 668
G 671
G 672
G 673
G 674
G 680
G 689
G 690
G 696
G 697
G 698
G 699
G 705
G 706
G 715
G 716
G 717
G 718
G 720
G 727
G 728
G 729
G 731
G 732
G 733
G 734
G 735
G 741
G 742
G 743
G 744
G 745
G 750
G 758
G 759
G 760
G 767
G 768
G 769
G 775
G 776
G 781
G 782
G 783
G 784
G 791
G 811
G 812
G 813
G 814
G 815
G 816
G 821
G 822
G 823
G 824
G 825
G 830
G 837
G 838
G 839
G 840
G 847
G 848
G 849
G 908
KY1 1
KY1 2
KY1 3
KY1 4
KY102
KY103
KY111
KY112
KY113
KY114
KY117
KY118
KY119
KY120
KY127
KY128
KY129
KY130
KY138
KY139
KY146
KY147
KY154
KY155
KY157
KY2 5
KY2 6
KY3 0
KY3 9
KY4 0
KY4 8
KY4 9
KY5 0
KY5 8
KY5 9
KY6 1
KY6 2
KY6 3
KY7 4
KY7 5
KY7 6
KY8 1
KY8 2
KY8 3
KY8 4
KY8 5
KY8 6
KY9 1
KY990
KY991
KY992
KY993
KY994
KY995
KY996
KY997
KY998
KY999
ML1 1
ML1 2
ML1 3
ML1 4
ML1 5
ML106
ML110
ML117
ML118
ML119
ML2 0
ML2 7
ML2 8
ML2 9
ML3 0
ML3 6
ML3 7
ML3 8
ML3 9
ML4 1
ML4 2
ML4 3
ML5 1
ML5 2
ML5 3
ML5 4
ML5 5
ML6 0
ML6 6
ML6 7
ML6 8
ML6 9
ML7 4
ML7 5
ML8 4
ML8 5
ML9 1
ML9 2
ML9 3
PA1 1
PA1 2
PA1 3
PA102
PA113
PA124
PA134
PA145
PA146
PA151
PA152
PA153
PA154
PA160
PA167
PA168
PA169
PA175
PA186
PA191
PA2 0
PA2 6
PA2 7
PA2 8
PA2 9
PA237
PA238
PA3 1
PA3 2
PA3 3
PA3 4
PA4 0
PA4 8
PA4 9
PA5 0
PA5 8
PA5 9
PA6 7
PA7 5
PA8 6
PA8 7
PA9 1