Terms: German Doner Kebab, May 19
14 May 2019, 13:11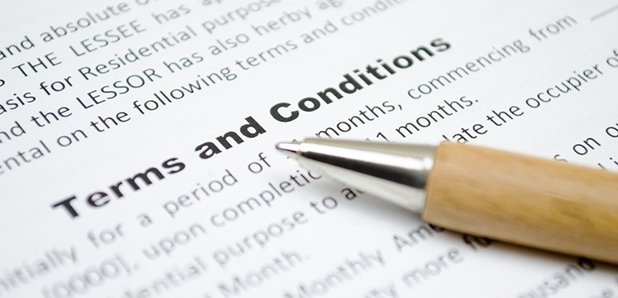 German Doner Kebab – Cash or Kebab' on Capital FM Scotland
May 2018
RULES
The following rules ("Rules") together with Communicorp UK ("Communicorp UK ") general and competition terms and conditions (the "Terms and Conditions") (which can be found at http://www.capitalfm.com/terms-conditions/ apply to 'German Doner Kebab – Cash or Kebab' radio competition ("the Competition") which will run from 15/05/18 - 24/05/18 at 3pm ("the Duration"). The "Radio Station" is Capital Scotland
Anyone who enters the Competition (an "Entrant") will be deemed to have understood these Rules along with the Terms and Conditions and will be bound by them. The Terms and Conditions are available on request from the Radio Station.
Details of the Competition:
To enter the Competition an Entrant must text the word KEBAB to 83958 and 1 text will be selected at random to come to air. Opening and closing times will be given out on air. If listeners text after lines close, they will not be entered but may still be charged. Capital Scotland is not responsible for any latency experienced by your mobile phone network, which may delay the delivery of your text message to us.
Once the text lines have closed, one contestant will be selected at random from all text entries and called back on Monday 20th May, during the Drive show (1600-1900).
All winning entrants (contestants) will be required to talk to the presenter/s and a call will be recorded with the presenter/s and played on-air. If the caller fails to answer a return call from Heart Yorkshire, is driving at the time of the call and is unable to pull over, cannot continue the call for any reason or the phone line is not of a suitable quality for broadcast (at the discretion of the producer) the call may be terminated and another Entrant selected at random.
Once on air the contestant must answer 5 general knowledge questions, if they are successful they will stay on for another day, if they get any wrong we will randomly select another winner from text entries and call them back to continue the game.
This will continue until Friday. The caller to answer all 5 correctly on Friday will win.
The producers decision is final
Eligibility:
18's and over only
Employees or family of employees of German Doner Kebab are not eligible
Winners must be within Capital TSA – postcodes;
EH1 1
EH1 2
EH10 4
EH10 5
EH10 6
EH10 7
EH11 1
EH11 2
EH11 3
EH11 4
EH12 5
EH12 6
EH12 7
EH12 8
EH13 0
EH13 9
EH14 1
EH14 2
EH14 5
EH15 1
EH15 2
EH15 3
EH16 4
EH16 5
EH16 6
EH17 7
EH17 8
EH18 1
EH19 2
EH19 3
EH21 6
EH21 7
EH21 8
EH22 4
EH22 5
EH23 4
EH25 9
EH26 0
EH26 8
EH26 9
EH27 8
EH28 8
EH3 5
EH3 7
EH3 8
EH3 9
EH30 9
EH31 2
EH32 0
EH33 1
EH33 2
EH34 5
EH39 4
EH4 1
EH4 2
EH4 4
EH4 6
EH4 3
EH4 5
EH40 3
EH41 3
EH41 4
EH46 7
EH47 0
EH47 8
EH47 9
EH48 1
EH48 2
EH48 3
EH49 6
EH5 2
EH5 3
EH51 9
EH52 5
EH52 6
EH53 0
EH54 6
EH54 8
EH54 9
EH6 4
EH6 5
EH6 6
EH6 8
EH7 4
EH7 6
EH7 4
EH8 8
EH8 9
EH9 1
FK1 1
FK1 2
FK1 4
FK1 5
FK1 2
FK10 1
FK10 2
FK10 3
FK10 4
FK12 5
FK13 6
FK14 7
FK15 0
FK15 9
FK2 0
FK2 7
FK2 8
FK2 9
FK2 0
FK2 7
FK3 0
FK3 8
FK4 1
FK4 2
FK5 4
FK6 5
FK6 6
FK6 6
FK7 0
FK7 7
FK7 8
FK7 9
FK7 7
FK7 9
FK8 1
FK8 3
FK8 3
FK9 4
FK9 5
G 1 1
G 1 1
G 11 5
G 11 6
G 11 7
G 12 0
G 12 8
G 12 9
G 13 1
G 13 2
G 13 3
G 13 4
G 14 0
G 14 9
G 15 6
G 15 7
G 15 8
G 20 0
G 20 6
G 20 7
G 20 8
G 20 9
G 21 1
G 21 2
G 21 3
G 21 4
G 22 5
G 22 6
G 22 7
G 23 5
G 3 6
G 3 7
G 3 8
G 3 8
G 31 1
G 31 2
G 31 3
G 31 4
G 32 0
G 32 6
G 32 7
G 32 8
G 32 9
G 33 1
G 33 2
G 33 4
G 33 6
G 34 0
G 34 9
G 4 0
G 4 9
G 40 1
G 40 2
G 41 2
G 41 3
G 41 4
G 41 5
G 42 0
G 42 7
G 42 8
G 42 9
G 43 1
G 43 2
G 44 3
G 44 4
G 44 5
G 45 0
G 45 9
G 46 6
G 46 7
G 46 8
G 5 0
G 5 8
G 51 1
G 51 2
G 51 3
G 51 4
G 52 1
G 52 2
G 52 3
G 52 4
G 53 5
G 53 6
G 53 7
G 60 5
G 61 1
G 61 2
G 61 3
G 61 4
G 62 6
G 62 7
G 63 0
G 64 1
G 64 2
G 66 1
G 67 2
G 67 3
G 67 4
G 69 6
G 69 7
G 69 9
G 71 5
G 71 8
G 72 0
G 72 7
G 72 8
G 72 9
G 73 1
G 73 2
G 73 3
G 73 4
G 73 5
G 74 2
G 74 3
G 74 4
G 75 0
G 75 9
G 76 0
G 76 7
G 76 8
G 77 5
G 77 6
G 78 1
G 78 2
G 78 3
G 78 4
G 81 1
G 81 2
G 81 3
G 81 4
G 81 5
G 81 6
G 82 1
G 82 2
G 82 3
G 82 4
G 82 5
G 83 0
G 83 8
G 83 9
G 84 0
G 84 7
G 84 8
G 84 9
KY1 1
KY1 2
KY1 3
KY10 2
KY10 3
KY11 2
KY11 4
KY11 8
KY12 7
KY12 8
KY12 9
KY14 6
KY14 7
KY15 4
KY15 5
KY15 7
KY2 5
KY2 6
KY2 6
KY3 9
KY3 0
KY4 0
KY4 8
KY4 9
KY4 9
KY5 0
KY6 1
KY6 3
KY6 1
KY7 4
KY7 5
KY7 6
KY7 5
KY8 1
KY8 4
KY8 4
KY9 1
ML1 2
ML1 3
ML1 4
ML10 6
ML11 0
ML11 9
ML2 0
ML3 6
ML3 7
ML3 8
ML3 7
ML4 2
ML5 1
ML6 0
ML6 6
ML6 8
ML7 4
ML8 4
ML8 4
ML9 3
PA1 1
PA1 2
PA1 3
PA1 3
PA13 4
PA14 5
PA14 6
PA15 1
PA15 2
PA15 3
PA15 4
PA16 0
PA16 7
PA16 8
PA16 9
PA19 1
PA2 0
PA2 6
PA2 7
PA2 8
PA2 9
PA2 6
PA23 7
PA23 8
PA3 2
PA3 3
PA3 4
PA3 2
PA4 0
PA4 8
PA4 9
PA4 0
PA5 0
PA5 8
PA5 9
PA5 9
PA6 7
PA7 5
PA8 7
PA8 7
Prize:
£2,500 in Cash
Cheque can be collected in person, with photo id, at GDK, Renfield Street, Glasgow, within 28 days
Runners up prize of a kebab from GDK, for any caller who gets 5 or more questions correct