Chance to win with the Transport Survey
14 February 2020, 15:52 | Updated: 14 February 2020, 15:57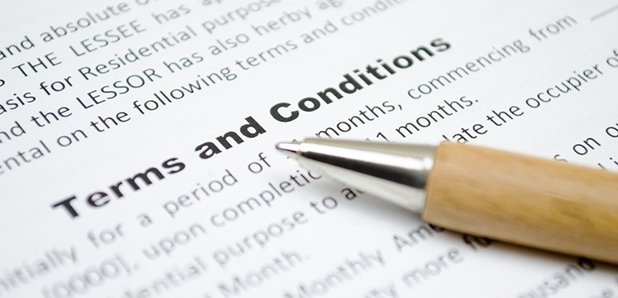 TAKE THE CAPITAL SCOTLAND PUBLIC TRANSPORT SURVEY AND YOU COULD WIN £1,000
Capital Scotland are giving you the chance to win £1,000, just for answering a few simple questions about your opinions of the public transport in Scotland.
We are constantly looking for ways to better understand you, our listeners, so follow the link below, complete the survey and you'll be entered into the draw to win!
https://www.snapsurveys.com/wh/s.asp?k=155541333910
The survey will take around five minutes to complete and will close on the 9th of March.
February 2020 Survey Capital Scotland

RULES

1. The following rules ("Specific Rules") together with the general competition terms and conditions (which can be found at www.capitalfm.com/scotland (the " Competition Terms and Conditions") of Communicorp UK (as defined in the Competition Terms and Conditions) apply to April 2019 and May 2020 Survey radio competition (the "Competition") which will run from 24th of February 2020 at 09:00 until 9th of March 2020 at 18:00 on Capital Scotland (the "Radio Station").

2. Anyone who enters the Competition (an "Entrant") will be deemed to have read and accepted the Specific Rules and the Competition Terms and Conditions and will be bound by them.

Details of the Competition:

3. To enter the Competition an Entrant must go online to capitalfm.com/scotland and complete the survey. Online entry will open at 09:00 on 24th of February 2020 and close at 6pm on 9th of March 2020.

4. The winner will be selected at random and informed by Communicorp Uk.

Eligibility:

5. Entrants must 18 or over

Entry is restricted to one entry per person; duplicate entries will be excluded from the Competition.
Entrants must reside within Capital Scotlands TSA, which is determined by the below postcodes

Prize:

6. £1000, supplied in the form of a cheque

7. Communicorp UK reserves the right to substitute the prize with another prize at its absolute discretion.
EH1 1
EH1 2
EH1 3
EH104
EH105
EH106
EH107
EH111
EH112
EH113
EH114
EH120
EH125
EH126
EH127
EH128
EH129
EH130
EH139
EH141
EH142
EH143
EH144
EH145
EH146
EH147
EH151
EH152
EH153
EH164
EH165
EH166
EH177
EH178
EH181
EH192
EH193
EH2 1
EH2 2
EH2 3
EH2 4
EH209
EH216
EH217
EH218
EH221
EH222
EH223
EH224
EH225
EH234
EH249
EH259
EH260
EH268
EH269
EH278
EH288
EH299
EH3 5
EH3 6
EH3 7
EH3 8
EH3 9
EH309
EH312
EH320
EH329
EH331
EH332
EH345
EH355
EH365
EH375
EH385
EH394
EH395
EH4 1
EH4 2
EH4 3
EH4 4
EH4 5
EH4 6
EH4 7
EH4 8
EH403
EH413
EH414
EH421
EH467
EH470
EH477
EH478
EH479
EH481
EH482
EH483
EH484
EH496
EH497
EH5 1
EH5 2
EH5 3
EH510
EH519
EH525
EH526
EH530
EH545
EH546
EH547
EH548
EH549
EH558
EH6 4
EH6 5
EH6 6
EH6 7
EH6 8
EH7 4
EH7 5
EH7 6
EH8 7
EH8 8
EH8 9
EH9 1
EH9 2
EH9 3
EH915
EH951
EH991
FK1 1
FK1 2
FK1 3
FK1 4
FK1 5
FK101
FK102
FK103
FK104
FK117
FK125
FK136
FK147
FK150
FK159
FK166
FK2 0
FK2 7
FK2 8
FK2 9
FK3 0
FK3 8
FK3 9
FK4 1
FK4 2
FK5 3
FK5 4
FK6 5
FK6 6
FK7 0
FK7 7
FK7 8
FK7 9
FK8 1
FK8 2
FK8 3
FK9 4
FK9 5
G 1 1
G 1 2
G 1 3
G 1 4
G 1 5
G 115
G 116
G 117
G 120
G 128
G 129
G 131
G 132
G 133
G 134
G 140
G 149
G 156
G 157
G 158
G 2 1
G 2 2
G 2 3
G 2 4
G 2 5
G 2 6
G 2 7
G 2 8
G 200
G 206
G 207
G 208
G 209
G 211
G 212
G 213
G 214
G 225
G 226
G 227
G 235
G 3 6
G 3 7
G 3 8
G 311
G 312
G 313
G 314
G 315
G 320
G 326
G 327
G 328
G 329
G 331
G 332
G 333
G 334
G 335
G 336
G 340
G 349
G 4 0
G 4 9
G 401
G 402
G 403
G 404
G 411
G 412
G 413
G 414
G 415
G 420
G 427
G 428
G 429
G 431
G 432
G 443
G 444
G 445
G 450
G 459
G 466
G 467
G 468
G 5 0
G 5 8
G 5 9
G 511
G 512
G 513
G 514
G 521
G 522
G 523
G 524
G 535
G 536
G 537
G 581
G 605
G 611
G 612
G 613
G 614
G 626
G 627
G 628
G 630
G 639
G 641
G 642
G 643
G 644
G 650
G 659
G 661
G 662
G 663
G 664
G 665
G 667
G 668
G 671
G 672
G 673
G 674
G 680
G 689
G 690
G 696
G 697
G 698
G 699
G 705
G 706
G 715
G 716
G 717
G 718
G 720
G 727
G 728
G 729
G 731
G 732
G 733
G 734
G 735
G 741
G 742
G 743
G 744
G 745
G 750
G 758
G 759
G 760
G 767
G 768
G 769
G 775
G 776
G 781
G 782
G 783
G 784
G 791
G 811
G 812
G 813
G 814
G 815
G 816
G 821
G 822
G 823
G 824
G 825
G 830
G 837
G 838
G 839
G 840
G 847
G 848
G 849
G 908
KY1 1
KY1 2
KY1 3
KY1 4
KY102
KY103
KY111
KY112
KY113
KY114
KY117
KY118
KY119
KY120
KY127
KY128
KY129
KY130
KY138
KY139
KY146
KY147
KY154
KY155
KY157
KY2 5
KY2 6
KY3 0
KY3 9
KY4 0
KY4 8
KY4 9
KY5 0
KY5 8
KY5 9
KY6 1
KY6 2
KY6 3
KY7 4
KY7 5
KY7 6
KY8 1
KY8 2
KY8 3
KY8 4
KY8 5
KY8 6
KY9 1
KY990
KY991
KY992
KY993
KY994
KY995
KY996
KY997
KY998
KY999
ML1 1
ML1 2
ML1 3
ML1 4
ML1 5
ML106
ML110
ML117
ML118
ML119
ML2 0
ML2 7
ML2 8
ML2 9
ML3 0
ML3 6
ML3 7
ML3 8
ML3 9
ML4 1
ML4 2
ML4 3
ML5 1
ML5 2
ML5 3
ML5 4
ML5 5
ML6 0
ML6 6
ML6 7
ML6 8
ML6 9
ML7 4
ML7 5
ML8 4
ML8 5
ML9 1
ML9 2
ML9 3
PA1 1
PA1 2
PA1 3
PA102
PA113
PA124
PA134
PA145
PA146
PA151
PA152
PA153
PA154
PA160
PA167
PA168
PA169
PA175
PA186
PA191
PA2 0
PA2 6
PA2 7
PA2 8
PA2 9
PA237
PA238
PA3 1
PA3 2
PA3 3
PA3 4
PA4 0
PA4 8
PA4 9
PA5 0
PA5 8
PA5 9
PA6 7
PA7 5
PA8 6
PA8 7
PA9 1