Pedal For Scotland - Jennie's Blog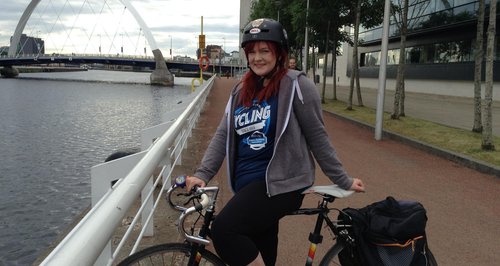 11th August - Oan yer bike!
Here we go! Week one of training for the Freshnlo Pedal For Scotland Glasgow to Edinburgh ride on the 7th of September, just about a month to get oan ma bike and into shape to ride 47 miles and, trust me, if I can do it anyone can! I had a wee tootle along the Clyde one afternoon past the Hydro, STV, the armadillo and the squinty bridge and then on Saturday decided it was time to get serious. I decided to do a 20 mile ride to Bowling and back from the West End of Glasgow along the canal path, it was a really nice day, the sun was shining but it wasn't too warm and there wasn't any wind making things more difficult than they needed to be.
The good thing about it being a canal most of the way is that there aren't many hills, hills on a bike are the work of the devil and I try and avoid them at all costs. I'll need to get some practice on them in before the event though so it isn't a massive shock to the system. It took me a couple of hours to get there and back and I felt totally fine afterwards though I definitely need to sort myself out with some gloves and a pair of padded shorts for the next one!
Jennie Cook
18th August - A Ride Around The Green
I headed up to Decathlon at the Fort this week to get sorted out with some new gear for training for the FreshnLo Pedal for Scotland 47 mile ride next month. They totally looked after me, kitting me out with a bike, some clothes, water bottle etc and I think the technical term for me now would be 'all the gear - no idea'!

I have to say, much as I love my own wee 70s frame racing bike it's so good to get a new one with gears that's exactly the right size for me. I took it out for a spin to meet The Boyfriend at Glasgow Green where the 47 mile ride is starting. He doesn't have a bike but quite fancied joining me so we borrowed one of the People Make Glasgow bikes, had a wee turn about the Green and then cycled up to the West End of Glasgow. He loved it and I reckon he'll be getting wheels of his own pretty soon.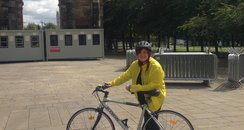 Today I'm going to go on a long ride and try out my new padded tights. I'll let you know how I get on....!
Jennie Cook
25th August- Ride on time
Week three of training for the freshnlo pedal for Scotland Glasgow to Edinburgh ride is going swimmingly so far, I've been loving the new bike from decathlon and have made sure I've got out several times for fairly long rides. One of the things I like the best about getting everywhere by bike is the fact that you see places from a totally different perspective. I went for a slightly rainy ride down to Portobello beach and found this amazing tunnel going under the park next to Arthur's seat, couldn't believe I didn't know it was there!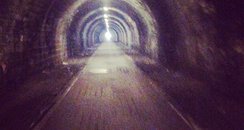 I also went for a wee day trip to Linlithgow and had a look at the palace, the Glasgow to Edinburgh ride goes past so I wanted to check it out, I love being able to just jump on a train with my bike and discover a whole new place.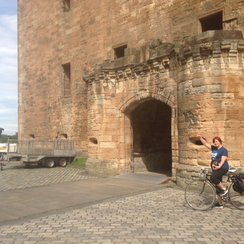 The padded tights have been working out a treat by the way, have to say I've been super thankful for them on any of the rides over ten miles! Bring on the 7th of September!
Jennie Cook
1st of September- THE FINAL COUNTDOWN
So it's just under a week to go until the Freshnlo Pedal For Scotland 47 mile Glasgow to Edinburgh ride and I think I'm nearly ready! I've been really enjoying training, there's something brilliant about just jumping on your bike and heading out of the city. This week I decided to ride to Loch Lomond from the west end of Glasgow, it's a lovely trip along the canal and through Dumbarton, about 20 miles in total and it's easy enough to get the train back if you don't feel like cycling.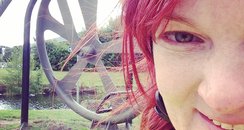 I was also lucky enough to get some tips from double Commonwealth silver medal winner Louise Haston who's taking part in the 110 mile Sportive ride on the same day, she's super lovely and even let me get my filthy paws on her medals.

The plan for this week is to try over 30 miles to check I'm capable of that and then to get a ridiculously early night on Saturday ahead of the ride on Sunday. I'm excited!
Jennie Cook