Trump Gets To Keep His Flagpole
15 November 2016, 10:45 | Updated: 15 November 2016, 10:47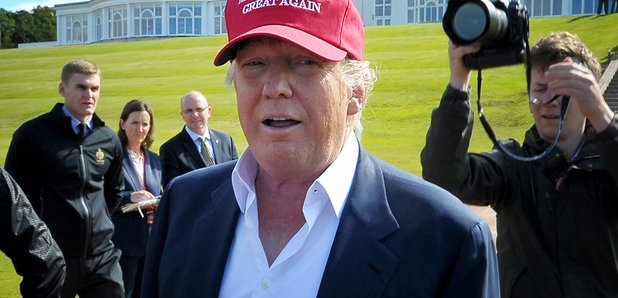 Donald Trump has secured another victory - over a large flagpole at one of his Scottish golf courses.
The 81ft (24.9 metre) structure was put up without planning permission at the president-elect's Trump International Golf Club at the Menie estate in Balmedie, Aberdeenshire.
When the relevant approvals were sought retrospectively, a committee at Aberdeenshire Council refused in April to grant full permission for the flagpole ``on the grounds of the visual impact ... due to its scale''.
But Mr Trump, who was last week elected as the next President of the US, has now been allowed to keep the structure at his course following an appeal to Scottish ministers.
The flagpole, used to fly a saltire, is situated near the clubhouse and was found to be higher than the top of the roof boxes of the building.
Claire Milne, a reporter appointed by the Scottish Government, assessed the visual impact of the structure from various viewpoints and concluded she did ``not find it obtrusive or out of proportion to the scale of the existing buildings or its immediate surroundings''.
In allowing the appeal and granting planning permission, she wrote: "The flagpole is visible from the golf course to varying degrees either in front of or to the side of the clubhouse and bag drop buildings.
"Given its slim design, the flagpole does not obscure views of the existing buildings or significantly overshadow them.
"Furthermore, within the vicinity of the clubhouse, as a bystander or golf club visitor, I do not consider that there would be a sense of visual dominance from the flagpole to the extent that this would make one feel uncomfortable.''
She went on: "I do not consider that the proposal is a distraction to the setting of the golf complex or to the character of this low coastal landscape.
"The flag, as a moving component, and the pole, due to its slender nature, do not intrude into the exposed long expansive views across the area, therefore the overall integrity and character of the landscape, which includes the golf course, is maintained.''
Concern had also been raised locally about the impact of the development on birds and the site of special scientific interest at the estate but Ms Milne did not consider the flagpole would have an adverse impact upon them.
A spokeswoman for Trump International Golf Links in Scotland said: "We are pleased that our appeal to fly our national flag was successful and that common sense has prevailed.
"The local planning committee's decision to prevent us from flying the saltire by our championship golf course was very disappointing - it is frustrating that valuable time and resources are spent defending such things.''
An Aberdeenshire Council spokeswoman said: "We note the decision, which will be brought before the Formartine area committee in due course for information.''