Sweet Scots Treat For Roger From Andy
8 November 2017, 07:12 | Updated: 8 November 2017, 07:17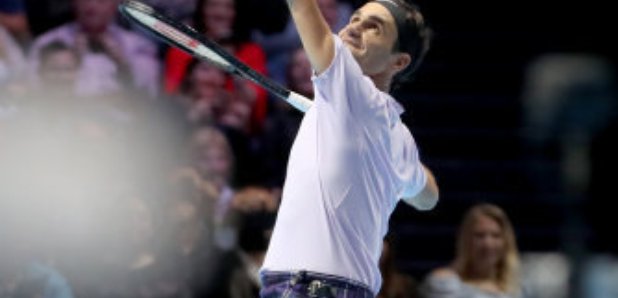 Sir Andy Murray has welcomed tennis legend Roger Federer to Scotland with homemade shortbread and Irn Bru as he touched down in the country for the first time to compete in a charity event.
The stars are used to meeting in major finals but are taking part in an exhibition match in front of 11,000 fans in Glasgow's SSE Hydro for Andy Murray Live.
Murray was delighted to have the 19-time grand slam champion supporting the event and treated him to traditional Scottish products ahead of the game.
Federer took to Twitter to post a picture of a biscuit tin with a note reading "Andy's granny's homemade shortbread" and an open can of Irn Bru.
He wrote: "Can't get a warmer welcome than this. Thanks @andy_murray ... is this your usual pre-match routine?"
Murray replied: "Yea that's a good start but try a deep fried Mars bar on top of that and you'll be properly ready @rogerfederer."
Earlier the Swiss player posted pictures of the Scottish countryside as he flew into Glasgow with a caption reading: "In Glasgow for the evening to play in @andy_murray's charity match.
"Scotland is beautiful even from the air!"
Murray has not played since July due to a hip injury but was determined to perform in front of a home crowd in the charity event.
He joked that it could be the first time he will have more crowd support than Federer, but the Swiss player said: "I remember the Olympic Games (London 2012) so don't forget that one.
"It's an absolute pleasure to play Andy here, we've had some epic matches over the years in the biggest places so to play in his backyard for a good cause is wonderful."
Federer was presented with a picture of himself as a child wearing a Scotland football strip and tried to gain some extra support from the Glasgow crowd.
He said: "This is from South Africa and I have no idea why I got it but you can say I was always a Scotland fan."
The event on Tuesday is raising money for Unicef and Glasgow-based charity, Sunny-sid3up.
More than £300,000 was raised last year at Murray's first charity event and he hopes the support of Federer can help raise more.
He said: "It's a big effort, Roger has a big event in a couple of days so I really appreciate him coming and we're doing this for two great causes.
"This might be the only time that he ever plays tennis here so I really appreciate that he made it up for tonight."
Murray fans will be watching the 30-year-old closely as he steps up his preparation to return to competitive tennis in Australia at the start of 2018.
Speaking before the exhibition match in Glasgow, he said: ''I hope I'm there. Things have been going pretty well so far in the rehab, but you just never know. You take each week as it comes.
''I've had setbacks and things can go quite quickly as well. I've been training for a few weeks now. Some days I've felt great and some days not so good.
''But I will come back when I'm ready and when I'm 100% fit. I probably made a bit of a mistake trying to get ready for the US Open but it was the last major of the year and I wanted to give it a go.
''And now it's time to give my body the rest and recovery it needs. I'll come back when I'm ready.''