Sturgeon Slams "Dreadful" PM EU Speech
21 September 2018, 17:25 | Updated: 21 September 2018, 17:26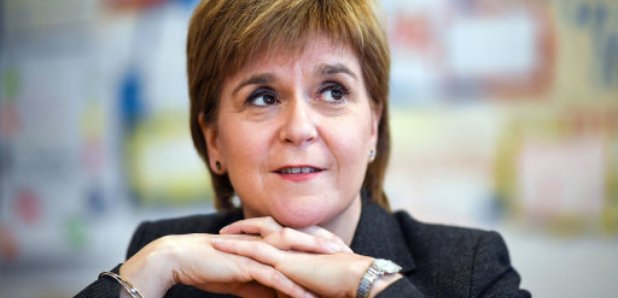 Scottish First Minister Nicola Sturgeon described Theresa May's statement on the Brexit negotiations as "dreadful" as she branded the Chequers proposals a "dead duck".
Mrs Sturgeon said a no deal or "no detail" Brexit was not acceptable following the Prime Minister's update.
Scottish Conservative leader Ruth Davidson, who spoke to Mrs May after Friday afternoon's statement, said she welcomed her commitment to "continue working to resolve this impasse".
Ms Sturgeon said: "The Prime Minister's statement was dreadful. The EU's view of the Chequers plan was bluntly and clearly expressed in Salzburg yesterday, but should not have come as a surprise to the UK Government, given that it was not a new position.
"Clearly, the Prime Minister has not been listening - Chequers is a dead duck but if her tactic now is to try and double down on those proposals and then seek to blame the EU for a no deal outcome, then she will do huge damage to all of those she is supposed to serve.
"What the latest development shows more clearly than ever is that the only remotely workable way for Brexit to happen is for the UK to stay in the single market and customs union.
"If the Prime Minister is not prepared to do that, then Brexit shouldn't happen. A 'no deal' or 'no detail' Brexit are simply not acceptable - particularly for Scotland, where we did not vote for any of this."
Ms Davidson said the Prime Minister had been "unequivocal on the importance of the integrity of the United Kingdom" and had reaffirmed her commitment to negotiating in good faith.
She said: "As we seek to find a way through the current impasse, I hope such good faith and respect will be reciprocated.
"It is in everyone's interest for a deal to be agreed between the UK and the EU, to facilitate free trade and mutual co-operation.
"I do not wish for the UK to leave the EU without such a deal.
"However, I am pleased that the Prime Minister has given categorical reassurance to EU citizens living in Britain that, should such a scenario come to pass, their rights remain intact.
"There is still time to agree a deal on the future relationship between the UK and the EU. My wish is for all sides to return to negotiations in order to deliver one."
Scottish Labour's Brexit spokesman Neil Findlay said Mrs May was incapable of delivering a Brexit deal.
He said: "Rather than negotiating constructively with Brussels, the Tories seem more comfortable fighting among themselves, while Ruth Davidson has done nothing but pay lip service to a Prime Minister wildly out of her depth.
"Meanwhile the prospect of a no deal Brexit grows more likely by the day. That is unacceptable and risks our economic future."
Scottish Liberal Democrat leader Willie Rennie added: "Theresa May called an election she didn't need and lost.
"She said Brexit meant Brexit when she didn't know what it meant. She picked her own cabinet which split.
"And she's had two years to convince Europe but has failed. She's had her chance, we now need a People's Vote."