Sturgeon Plays Down Threat From Tories
6 May 2017, 12:47 | Updated: 6 May 2017, 12:55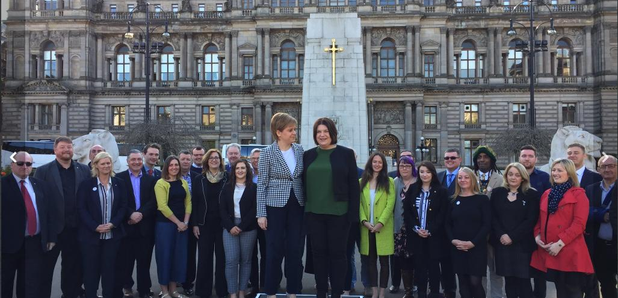 Scottish National Party leader Nicola Sturgeon has played down the threat from Conservatives north of the border.
Theresa May's Conservatives achieved their best local election results in generations to push Labour into third place, yesterday.
Although the Conservatives did well ''by their standards'', they did so by taking votes from Jeremy Corbyn's Labour Party and not by eating into SNP support, the First Minister said.
The Tories' share of the vote in Scotland was no better than Labour's in England, which was regarded as a ''disaster'' for Mr Corbyn, she said.
And she presented the June 8 General Election as a straight choice for Scottish voters between the Conservatives, who are set to win power at Westminster on the back of their support in England, and the SNP, who would ''stand up for Scotland's interests''.
Meeting victorious SNP candidates in Glasgow - where Labour lost overall control for the first time since 1980 - Ms Sturgeon said ''Yes, by their standards, the Tories did well - and I take nothing away from them - but they did well entirely at the expense of the Labour Party.
''As we go into the General Election, the people of Scotland have a clear choice. It is pretty clear that Theresa May, on the strength of support in England, is going to win the General Election, so for people in Scotland, if they want strong voices standing up for Scotland's interests and holding the Tories to account in Westminster, that can only come from the SNP.''
Thursday's council elections delivered the Conservatives' best results in Scotland for generations, with the party putting on 164 seats to achieve a tally of 276. Labour shed 112 councillors to trail in third on 262, losing control of three councils.
But both were far outstripped by the SNP, which added 31 councillors, winning a total of 431.
Ms Sturgeon said: ''If you compare north and south of the border, the Tories polled less in Scotland than Jeremy Corbyn did in England, and yet Jeremy Corbyn has been written off as a disaster.''
Ms Sturgeon said the election results showed the SNP in the ascendency north of the border, with Tories and Labour ''scrapping for second place''.
''The day after my party has won by a considerable margin more votes, more seats and more councils than any other party and improved our position on the last council election, I think I'm reasonably entitled to feel quite optimistic as we go into the next contest,'' she said.
She rejected the suggestion that the SNP's share of votes indicated it would struggle to achieve a majority in a future independence referendum, insisting the two contests were not comparable.
''The Tories put an independence referendum at the heart of their campaign. It was the only thing they spoke about,'' she said.
''And yet they lost the election yesterday.
''It was the Tories who tried to make it a referendum on an independence referendum and they came quite a distant second. If there's a message at all on that issue, it's a message for the Conservatives.''