Sturgeon on fatal hotel fire: any lessons from investigation will be learned
21 December 2017, 15:03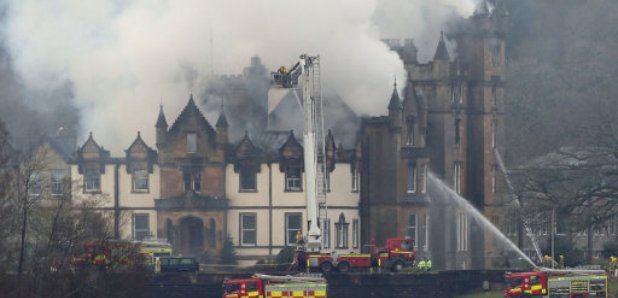 The First Minister has said any lessons from the investigation into a fatal fire at a luxury hotel will be learned.
Nicola Sturgeon gave the assurance in the wake of the blaze at the five-star Cameron House Hotel on the banks of Loch Lomond on Monday.

Guests Simon Midgley, 32, and Richard Dyson, 38, from London, died in the fire while a family of two adults and a child were rescued by ladder.

Local Dumbarton MSP Jackie Baillie was reduced to tears as she raised the tragedy in the Holyrood chamber during First Minister's Questions.

Ms Baillie sent her condolences to the families of Mr Midgley and Mr Dyson and praised the emergency services for their actions.

She said: "The investigation has yet to start because the building needs to be made safe, but can I ask the First Minister, when the investigation is complete, will she ensure that lessons are learned, whether that's in practice or if there is indeed a need to enhance building standards regulations?"

Ms Sturgeon responded: "I want today to convey my deepest condolences to the families of the two young men who died and send my thoughts to all of those who were affected by this tragedy.

"This horrific event demonstrates once again how our firefighters so willingly put themselves in the line of danger to assist others on a daily basis and I know the whole chamber will want to send our grateful thanks to our firefighters and to all of our emergency services who responded.

"Of course there will be a thorough investigation into what happened at Cameron House and it is important that that investigation is allowed to run its course, but I can give an assurance today that the Scottish Government, with our partners and indeed with the owners of Cameron House Hotel, will make sure that any lessons that emerge from that investigation are learned and fully applied."

More than 70 firefighters fought the early morning blaze at the resort, which caused significant damage to the hotel roof.

One of the men died at the scene and the other died at the Royal Alexandra Hospital in Paisley.

Cameron House said the hotel and its facilities will be closed until further notice.

A statement on its website said: "We would kindly ask all guests and customers to remain patient as we work with the emergency services to establish the extent of the damage and ascertain when we will be able to reopen."