Sturgeon Criticises Syrian Air Strikes
8 April 2017, 10:57 | Updated: 8 April 2017, 12:02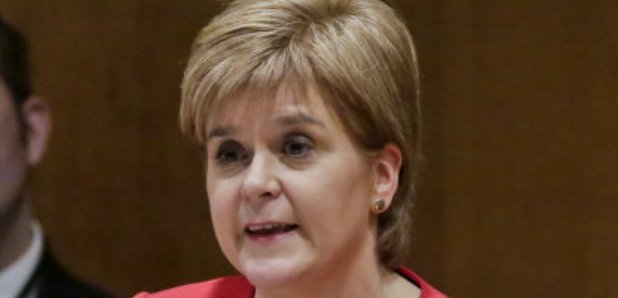 Nicola Sturgeon has expressed ''doubt and scepticism'' over the effectiveness of US air strikes in Syria.
Scotland's First Minister said she was concerned the action taken by US president Donald Trump following chemical weapon attacks would increase ''uncertainty and unpredictability'' in the Syrian conflict.
She echoed earlier comments from the SNP's foreign affairs spokesman Alex Salmond MP in stating that the missile strikes were ''no substitute for a real plan for peace''.
Ms Sturgeon, who has just completed a five-day official visit to the US, backed an intensification of efforts to broker peace and called on countries including the UK to do more to help those fleeing the conflict.
''My doubt and my scepticism about simply dropping bombs is that it doesn't necessary take us one single inch closer to that peaceful outcome,'' she told BBC Radio Scotland's Good Morning Scotland programme.
She added: ``What I understand is the instinct to do something in the face of the quite horrific chemical attack carried out by the Assad regime earlier this week. That regime is completely beyond the pale.
''So there is in these circumstances I think always a sense of wanting to hit back and to do something.
''My concern about air strikes is and always has been that they are no substitute for a real plan for peace and what we need to see in Syria is an end to the conflict, the multifaceted, horrible conflict that is under way in that country.
''I suppose I have a concern that air strikes, particularly given what appears to be the quite dramatic change in the position of the American administration, increases the uncertainty and the unpredictability of the situation in Syria.
''There must be the focus on trying to find a peace that is sustainable in Syria.''
Ms Sturgeon said she was not saying that the strikes had made the situation in Syrian worse, but added: ''I have had a longstanding concern, my party has had a longstanding concern, about air strikes in isolation.
''I think the experience not just in Syria but in past conflicts tells us that simply bombing a country from on high does not necessarily contribute to peace.
''And while I think it's too early to say this in Syria, we have seen in some past cases that isolated air campaigns can exacerbate rather than help build a peaceful solution.
''So I think what we need to see is an intensification of the work that's been led this very week in Brussels with the UN envoy in Syria to try to find a peace that will be sustainable.
''I think there also has to be even more action by countries like the UK in terms of refugees and giving refuge to people who are fleeing that conflict.''
She said Scotland was trying to play its part through a programme training women in conflict resolution.