Spike in hate crime against disabled Scots
15 June 2018, 13:39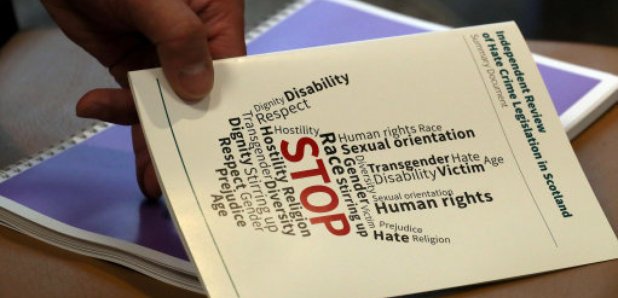 The number of hate crime charges relating to disability has risen more than 50% in the past year, new figures show.
Some 284 charges with an aggravation of prejudice relating to disability were reported in 2017/18 - 51% more than in 2016/17.
The figures were published in a Crown Office report on Hate Crime in Scotland.
It is thought the large increase may be partially due to increased awareness of what constitutes a disability hate crime and of the increased support available to report such crime.
Racial crime remains the most commonly reported hate crime with 3,249 charges reported in 2017/18, 4% less than the previous year.
This is 29% less than the peak in such charges in 2011/12, and the lowest number reported since consistent figures became available in 2003/04.
Sexual orientation aggravated crime is the second most common type of hate crime, with 1,112 charges reported in 2017/18, an increase of 3% on the previous year.
With the exception of 2014/15, there have been year-on-year increases in charges reported since the legislation introducing this aggravation came into force in 2010.
The Lord Advocate, James Wolffe QC, said: "The Crown Office and Procurator Fiscal Service, Scotland's independent public prosecution service, is committed to tackling hate crime.
"Crime motivated by hatred is not only a wrong against the individual, but is an affront to our collective values as a community, creating division and fear. That is why we treat it so seriously and why we will continue to do so.
"It is encouraging that many victims of hate crime have the confidence to report this type of offending and we would encourage more to do so.
"People who live in Scotland, regardless of their personal or social circumstances, can be assured that they live in a just society and that they will be protected from crime - and in particular from hate crime."
Last year 49 charges with an aggravation of prejudice relating to transgender identity were reported, seven more than in 2016/17.
There were 198 charges reported under Section 1 of the Offensive Behaviour at Football and Threatening Communications (Scotland) Act 2012 however it is not possible to make direct comparisons with earlier years as the Act was repealed on April 20 this year.
There were 642 religiously aggravated charges reported in 2017/18.
Scottish Government analysis identified Catholicism as the religion that was most often the subject of abuse, with 319 charges, accounting for 50% of the charges, and down 17% from 2016/17.
There were 174 charges (27% of total charges) related to Protestantism in and 115 charges (18% of the total) where conduct was derogatory towards Islam in the past year.
Community Safety Minister Annabelle Ewing said: "It's reassuring to see more people are coming forward to report hate crime, and in particular disability hate crime.
"A significant amount of work has been done by Police Scotland, the Crown Office and community organisations over the past year to ensure this is happening.
"But I still believe this isn't the full picture and remain concerned that crime motivated by prejudice is underreported and would urge anyone
who experiences it to ensure it's reported properly."
Chief Superintendent John McKenzie said hate crime was a "key priority" for police and urged people to report it.