Social Bite Aid Convoy Reaches Refugees
6 January 2016, 11:08 | Updated: 30 March 2016, 13:50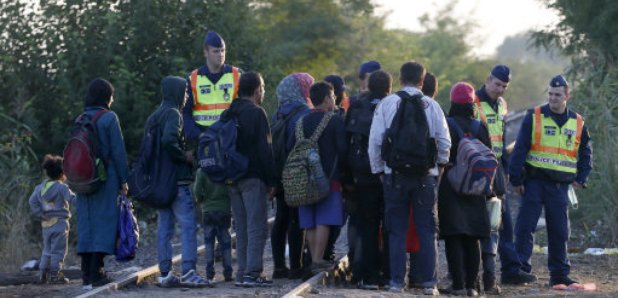 An aid convoy carrying food and clothing donated to a campaign launched by George Clooney has reached refugee camps across Europe.
Social Bite received more than 73,000 donations to its Christmas appeal to help both homeless people in Scotland and refugees in Europe.
Many donations were used to fund food parcels for refugees in Calais, Serbia and the Greek island of Lesbos, and volunteers including Social Bite co-founder Josh Littlejohn set off in a 5,000-mile convoy of delivery vans on Boxing Day to reach those in need.
Social Bite's appeal was kicked off by Clooney when he visited the non-profit company's sandwich shop in Edinburgh in November.
Trespass, the outdoor clothing company, matched each donation with a pack of winter clothing and equipment such as hats, scarves, gloves, rain jackets, sleeping bags and tents.
With so many donations made to the campaign, Social Bite said surplus funds will ensure free hot meals and drinks can be provided to the homeless community in Edinburgh, Glasgow and Aberdeen for the rest of the year.
Massive contributions were also made to Social Bite's homeless Christmas dinner appeal, meaning all five of its shops in Edinburgh, Glasgow and Aberdeen were able to open between Christmas Eve and Christmas Day to feed anyone who needed a hot meal and a place to spend the day.
Scotland's First Minister Nicola Sturgeon and cyclist Sir Chris Hoy also contributed to the campaign.
Mr Littlejohn said: "These people living in refugee camps are just normal people living in extremely distressing circumstances. Seeing their suffering first-hand, I felt immensely grateful for the huge amount of support Social Bite received during our campaign.
"We want to thank everyone who generously helped us - whether that's George Clooney who launched the campaign, Trespass who donated quality winter supplies, or the members of the public who put their fiver into the pot to support our campaign.''