SNP: Indyref2 if there's a People's Vote
8 October 2018, 06:17 | Updated: 8 October 2018, 06:22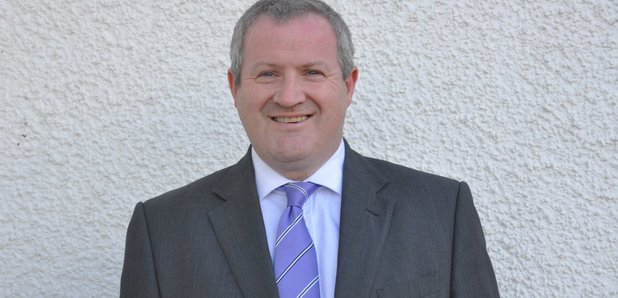 Scotland has to have the right to vote on independence for a second time should there be a similar renewed vote on Brexit, the Westminster leader of the SNP has said.
Ian Blackford MP said the country should not be forced into accepting the result of any second Brexit referendum should Scotland again vote to remain but the majority of the UK vote to leave.
Nearly 52% of those voting in the UK cast their ballot to leave in the 2016 referendum, but all 32 voting areas in Scotland had a majority for remain.
Speaking on Sky's Ridge on Sunday, he said: "If there's a People's Vote, we need to make sure that our position is protected.
"We must have the right - if we are being dragged out of Europe, if we are being dragged out of the single market and customs union - that we have that ability to determine our own future.
"As this conference takes place, there was a huge demonstration yesterday in Edinburgh, talking about up to 100,000 people that marched in support for Scottish independence.
"There are polls out this morning that show that a majority of the Scottish people would support an independent Scotland in the likelihood of a hard Brexit.
"So, it's very clear circumstances here are changing. I think people are expressing a very clear opinion that they want to have their rights - as European citizens - protected."
He added that if Northern Ireland were to get a "bespoke deal" as a result of Brexit negotiations, there is no reason the same could not happen for Scotland.
This would be a scenario where the country was able to stay in the single market or have better access to the customs union, unlike the rest of the UK.
Mr Blackford made his comments as a poll published in The Sun on Sunday and The Sunday Herald suggests a no-deal Brexit would see backing for Scottish independence reach 52%.
The Survation survey also shows support would be a 50/50 split if the break-up goes "as planned" while support for leaving the UK would be at 46% if there was another referendum tomorrow.
Meanwhile, a poll in The Sunday Times shows backing for Scottish independence would merely grow in the case of a no-deal Brexit - but would not find a majority.
The Panelbase survey of 1,024 voters in Scotland found support for leaving the UK would increase from 45% in September 2014 to 48% while support for staying would fall from 55% to 52%.
All Under One Banner held a rally which saw supporters of independence march the length of the Royal Mile to Holyrood Park.
Organisers estimated more than 100,000 people took part while authorities put the figure at 20,000.
Mr Blackford, speaking later at a fringe event at the SNP conference in Glasgow, said he that could "sense there is a change" in Scotland which could lead to independence,
"I think I can say with a degree of confidence the journey that we have all been on, it will not be long 'til we reach that conclusion."
On Brexit, he insisted SNP MPs would "not sit back and allow Theresa May and her government to endanger the economic prosperity of our country" and would vote against any deal that would take the UK out of the single market and customs union when it comes before the House of Commons.
"The Scottish National Party has made it very clear that if Theresa May comes back to Parliament with a deal that is going to rip us out of the single market and customs union... that we will vote against the proposals that Tory government brings forward," the MP said.
"We have a duty to protect the interests of the Scottish people and we take that responsibility seriously."
He went on to warn Theresa May that if she opts to "kowtow to Jacob Rees Mogg, to Boris Johnston" by pressing ahead with a hard Brexit, she would risk putting hundreds of thousands of workers across the UK on the dole.
"That simply is a price that is not worth paying," Mr Blackford said.
He added that he believed there was a majority in the House of Commons for staying in the single market and customs union, and urged the Prime Minister to "trust Parliament".
Scottish Liberal Democrat leader Willie Rennie said: "After months of dawdling and deflection, when it comes to a People's Vote it's finally all out in the open.
"The SNP only want the public to have the final say on Brexit if it'll suit them.
"This is the shoddy exploitation of Europe for the SNP's own independence agenda."