Scottish School Gets American-Style Diner
2 March 2017, 16:30 | Updated: 2 March 2017, 16:35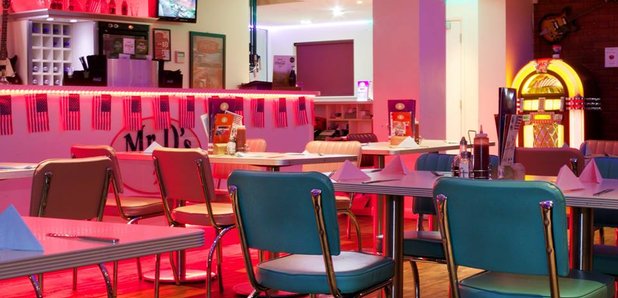 A high school has opened the UK's first American-style diner for pupils.
Holyrood Secondary pupils in Glasgow can now enjoy a retro lunch experience within the school gates.
Designed to encourage pupils to remain on school grounds during breaks, the 50-seat outlet aims to replicate a traditional American diner.
It features a vintage exterior, black and white tiled floor, red faux leather booth seating and other furnishings to give it an authentic 1950s feel.
Pupils will be able to dine in over lunch or purchase food through an external service window.
The menu features BBQ chicken, quesadillas, chilli dogs and burritos - all conforming to Scottish Government nutritional legislation.
The school will also use the diner as a meeting place for clubs and societies.
The diner was installed by catering services provider Cordia, and its head of facilities management Julia McCreadie said: "This is probably one of the most ambitious catering projects we've undertaken but the end result is fantastic.
"The diner looks brilliant and is an excellent addition to Holyrood's infrastructure.
"Pupils can visit it during break times, getting the true 50s experience with a contemporary menu of exciting dishes.
"We're really pleased with how it looks and feels, but most importantly, it fulfils our overall objectives of encouraging young people to eat healthy during the day and avoid fast food.
"We will continue to look at new and innovative ideas for schools across Glasgow - working with pupils, teachers and parents to drive forward these concepts.''
Glasgow City Council's children and young people spokeswoman Liz Cameron said: ``I love the fact that our schools are always working with our Cordia colleagues to look at innovative ways in which to promote our nutritious and value-for-money school meals to pupils.
"We know that there will always be a bit of a battle for pupils to be enticed to the local fast food outlet at lunchtime, so by providing a unique and alternative space to have lunch is hopefully an attractive prospect for Holyrood young people.''